Keep up to date with all of our newest features and improvements to our platform.
New Update: Login Modernization
Released: June 28th, 2021
We have revamped and added additional features to the login page to make it easier for attendees to gain access to events. It is now easier to apply custom welcome messages and background images to create amazing login experiences.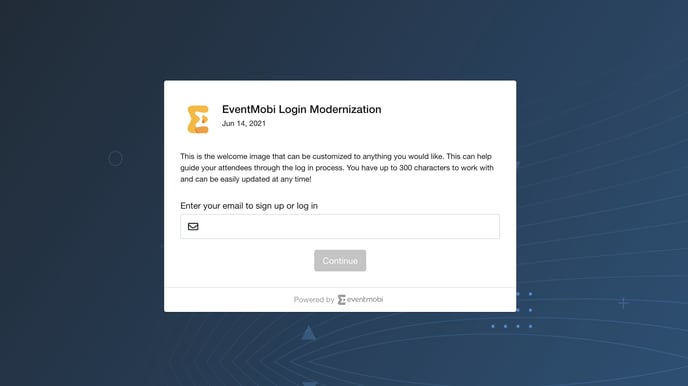 Learn How to Set Up Your Login Page
New Update: Attendee Time Zone

Released: April 26, 2021
Attendees will now see event times relative to their local time zone. For an event where attendees span multiple time zones, this simplifies attendees' ability to see session start times, without having to calculate for differing time zones. Below you can see how the same event appears for attendees from two different time zones.
New Update: Interactive Breakout Rooms

Released: March 1, 2021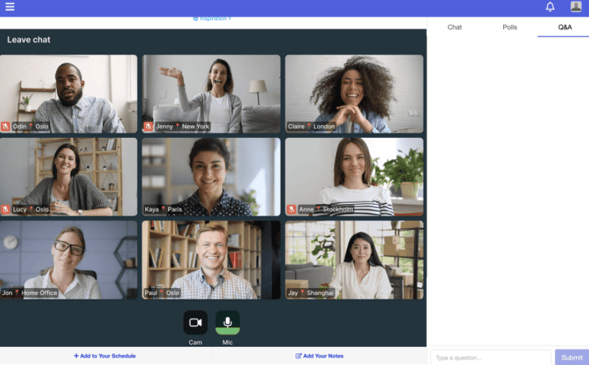 Our Interactive Breakout Room feature allows you to create interactive experiences where up to 50 people can participate in a two way session, meeting or activity - allowing you to offer more connection and engagement between speakers, attendees and other stakeholders at your Virtual or Hybrid event.
Learn more in our FAQ.
New Feature: Home Page Builder

Released: February 1, 2021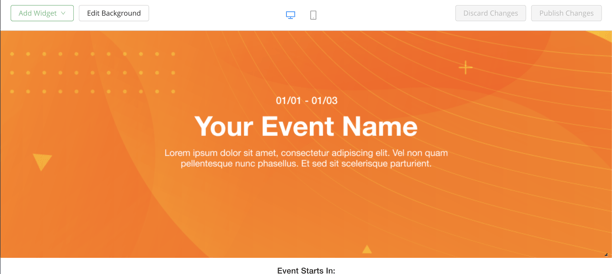 The Home Page Designer provides you with all of the tools that you need to create incredible custom designs with ease - no design experience required.
Learn more in our FAQ.
New Update: Event Attendance Report and Audience Viewership

Released: February 1, 2021
The People tab of the Analytics area will offer you an overview which attendees have logged in and show you who interacted with specific sections or content in the Event Space.
Learn more in our FAQ.
New Update: Video Summary and Page Views

Released: February 1, 2021
The video displays an overview of your Top Videos on your Event Space. There is also an Audience Viewership are that is possible to see a more accurate attendees stats over a video breakdown.
Learn more in our FAQ.
New Feature: 1:1 Zoom Integration
Feature released: November 17, 2020
With the EventMobi & Zoom integration, registered event attendees browsing through the event agenda can now select your session and launch the Zoom meeting or webinar with a single click. Learn more in our FAQ.
New Feature: 1:1 Video Meetings
Feature released: July 28, 2020
As an enhancement to our Appointment/Meetings feature, People can now book one on one video meetings within the Virtual Space.
New Feature: Session Chat
Feature released: July 22, 2020
Chat can now be enabled for Virtual sessions, allowing attendees to engage with both the session and each other via a session based group chat.
New Feature: Virtual Booths
Feature released: July 7, 2020
Companies can now add video to their profiles linked from a service like Vimeo, Youtube, etc. As well, company representatives can be added, as well as sessions that are presented or sponsored by the company. Learn more, in our FAQ.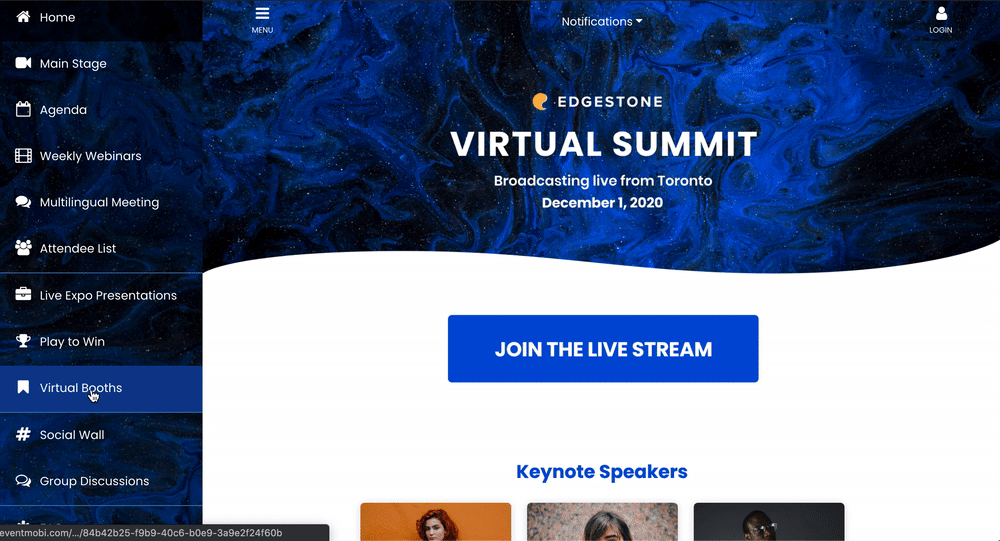 New Feature: Pre and Post Video States

New Feature: Pre and Post Video States
Feature released: June 8, 2020
When offering your sessions using our Custom URL video source, Pre Stream Image and Post Stream Image options are now available to help in addressing attendees before the session begins and after it has concluded. By default, your Pre and Post Stream Images will display as a black screen that includes text. You may also add a custom image in place of the default image.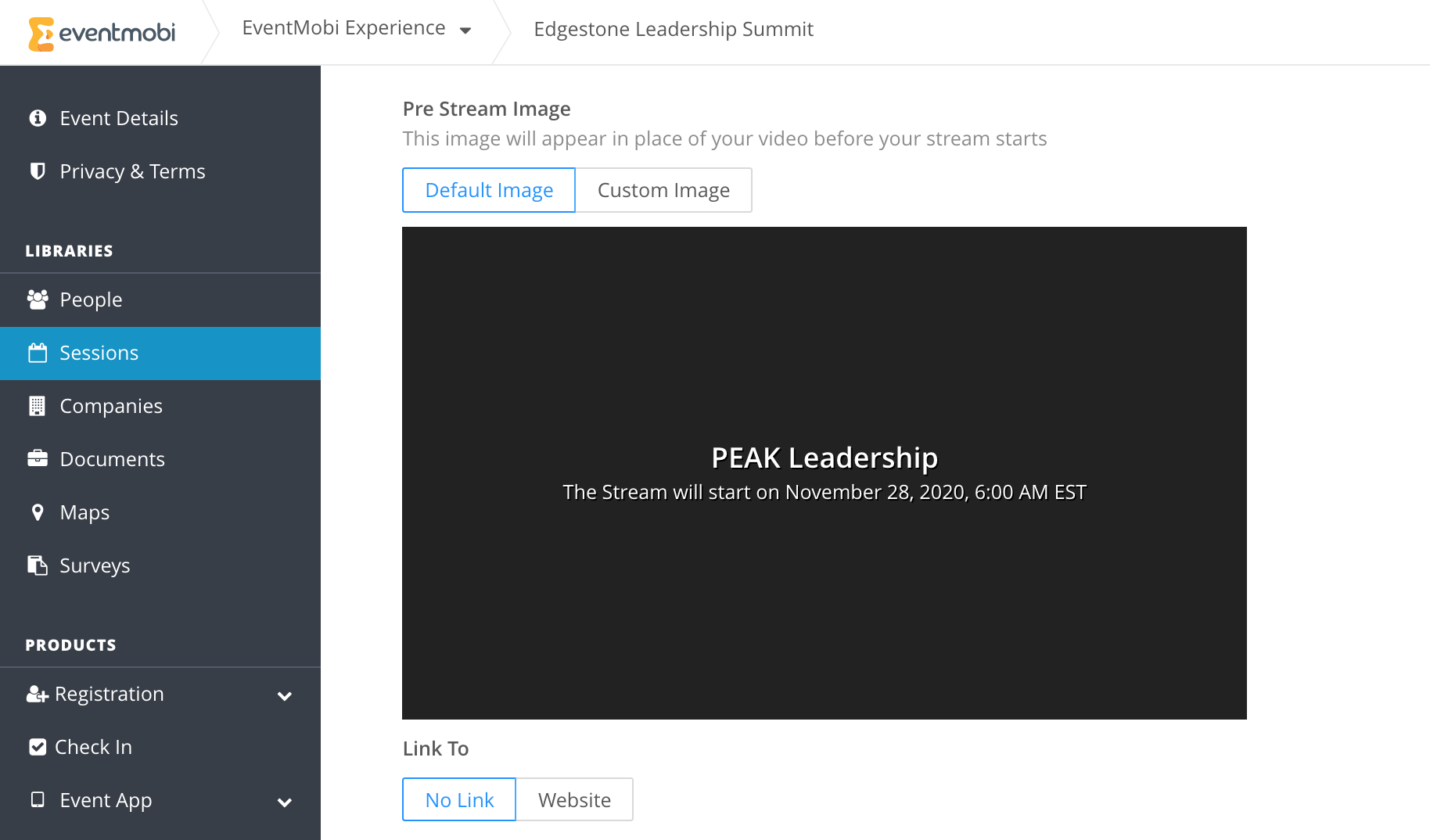 New Feature: Multilingual Event Space
Feature released: May 29, 2020
A secondary language can now be offered from the Event Space, to help in providing a multilingual experience to attendees. Language settings can be adjusted by the user within the 'Preferences' area of the Attendee Dashboard, and will act in updating the language of any text that is built directly into the Event Space.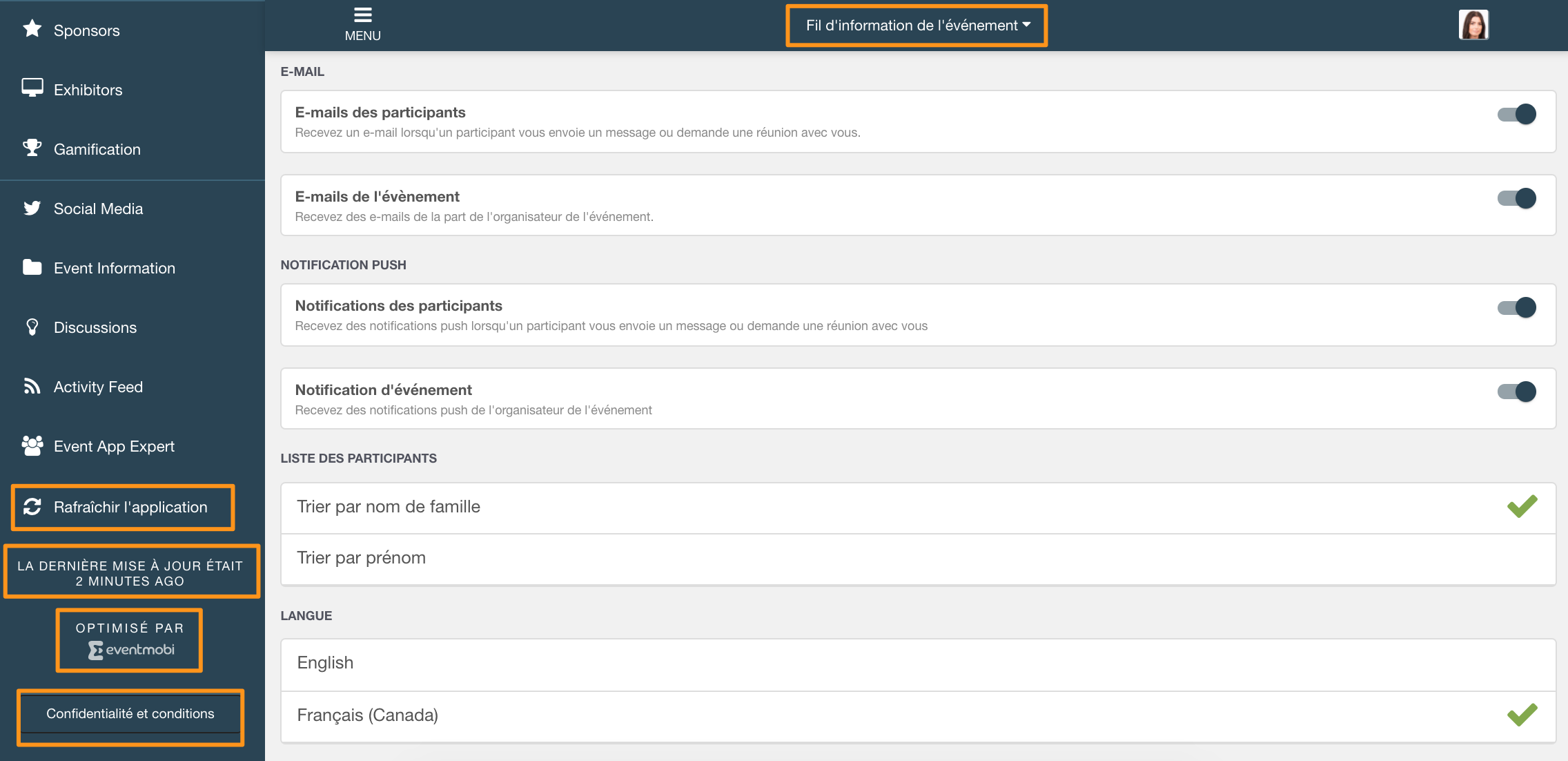 New Feature: Link to Conference

Feature released: May 26, 2020
You can now create a link to the webinar or conference application, which will open in a new window. This enables linking for applications that don't allow embedding, or where some features that require access to attendee cameras and microphones (such as virtual breakout sessions) will be needed.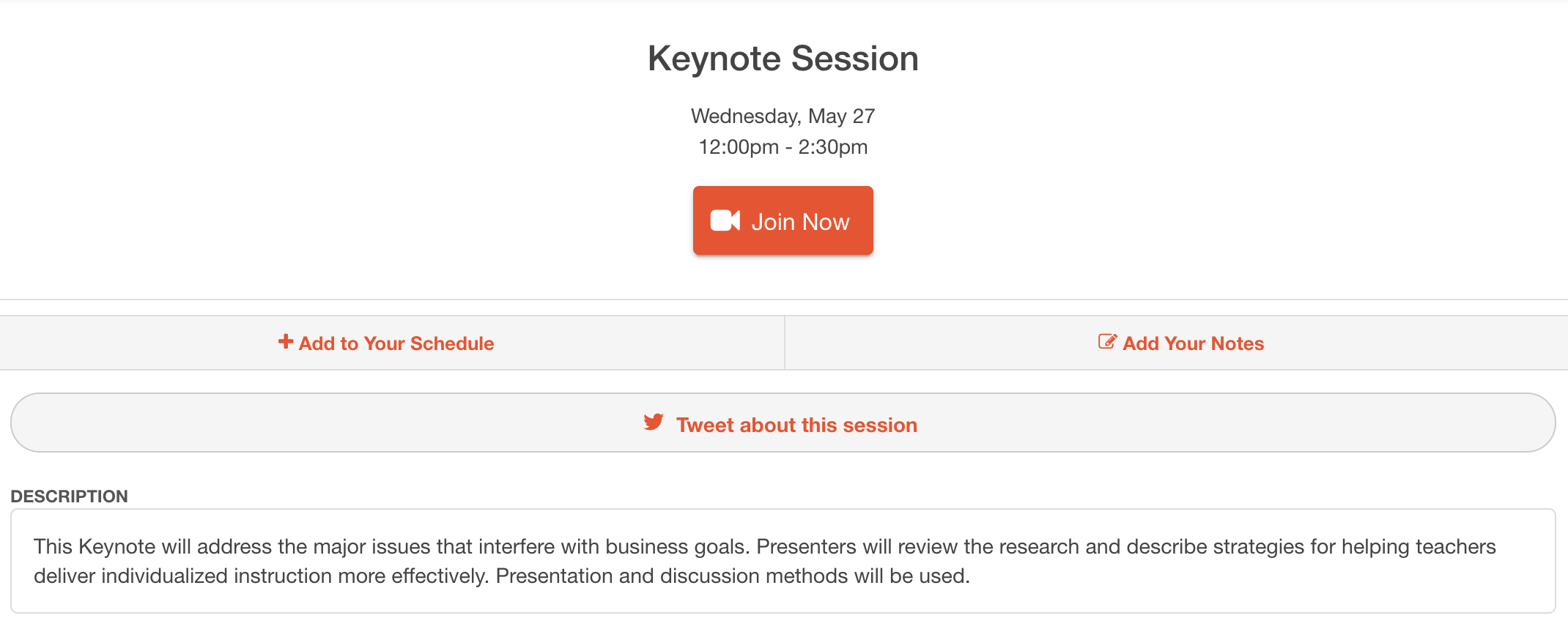 Update: Live Polls and Ask a Question
Feature released: April 17, 2020
The placement of Live Polls and Ask a Question has been moved to the right-hand side of your session page to compliment any video content that is being shared, and to encourage participation and engagement from attendees.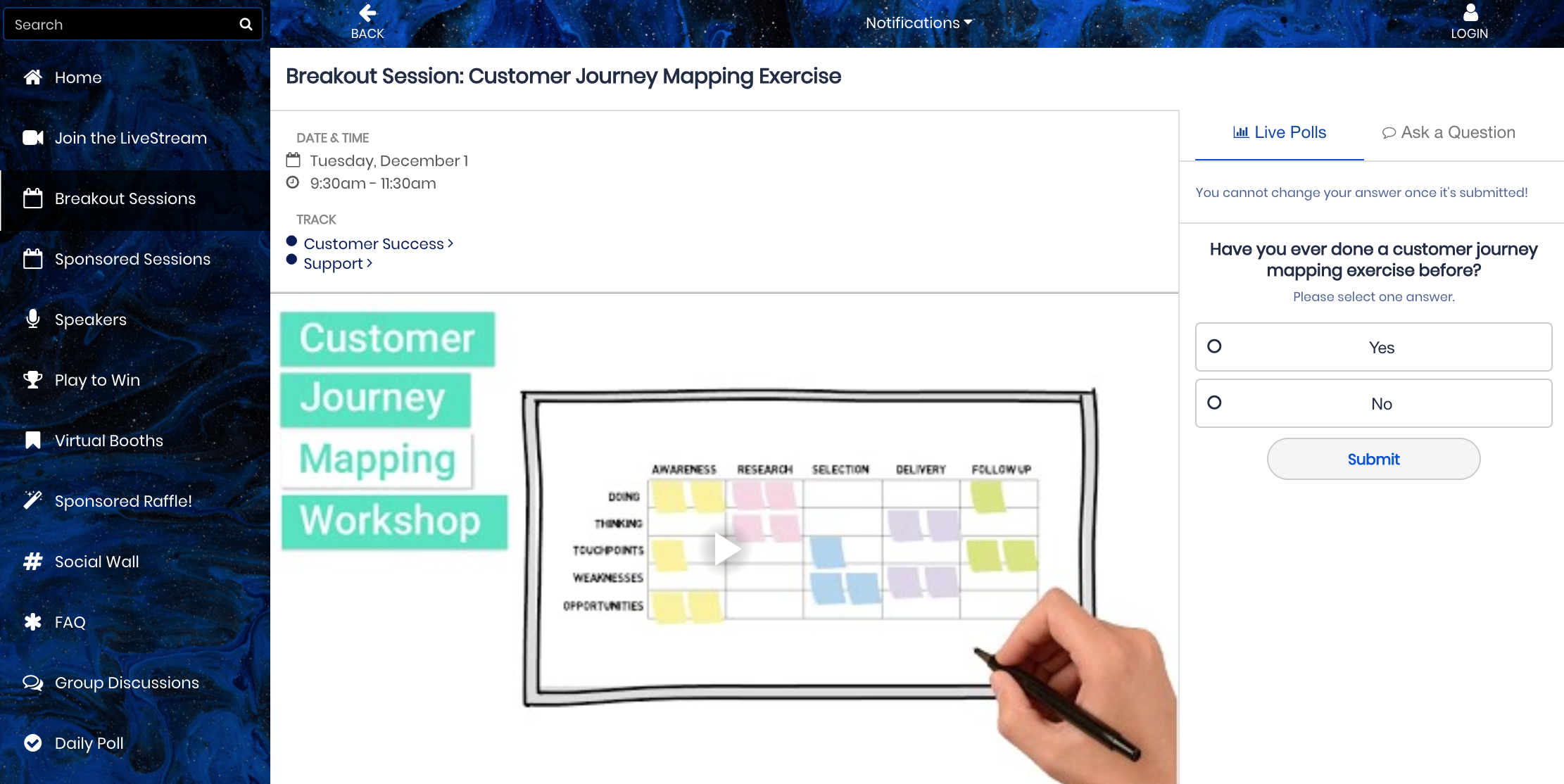 New Feature: Video in Sessions
Feature released: April 17, 2020
In line with the release of our Virtual Event Space, we have added the ability for organizers to embed live stream or recorded videos within a session. Within each session, a new Video option will be available to help you link to a Video URL, or to generate a Custom URL that can be inputted into an RTMP video source.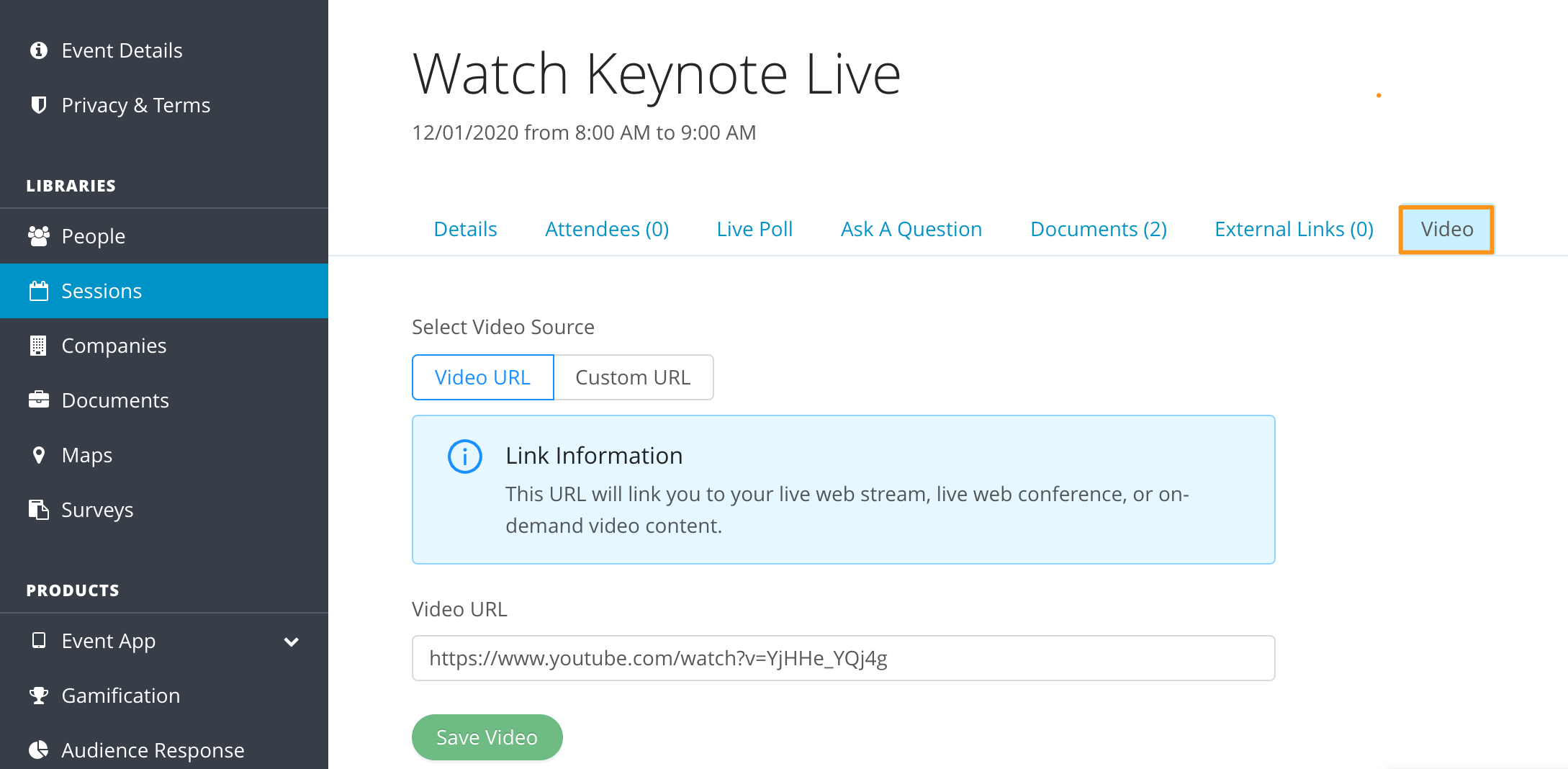 Update: People Table
Update released: April 17, 2020
We have made enhancements to the People table to make creating, editing and managing profiles even easier. With the release of this new update you can now filter profiles within the library according to Group or use pagination to help you in finding and accessing the content that you are looking for.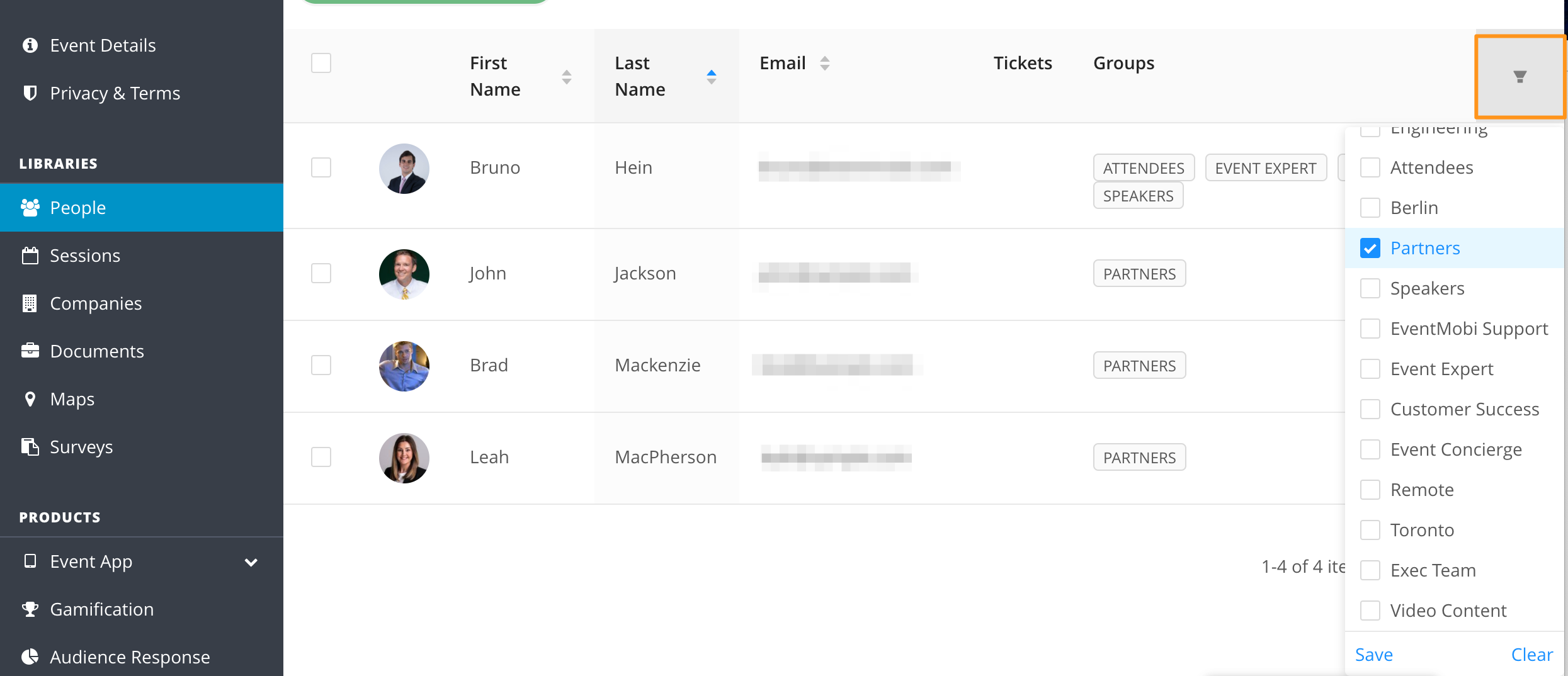 Groups and Custom Fields can also be created and edited in line in addition to offering you the option to drag and drop items to change their placement.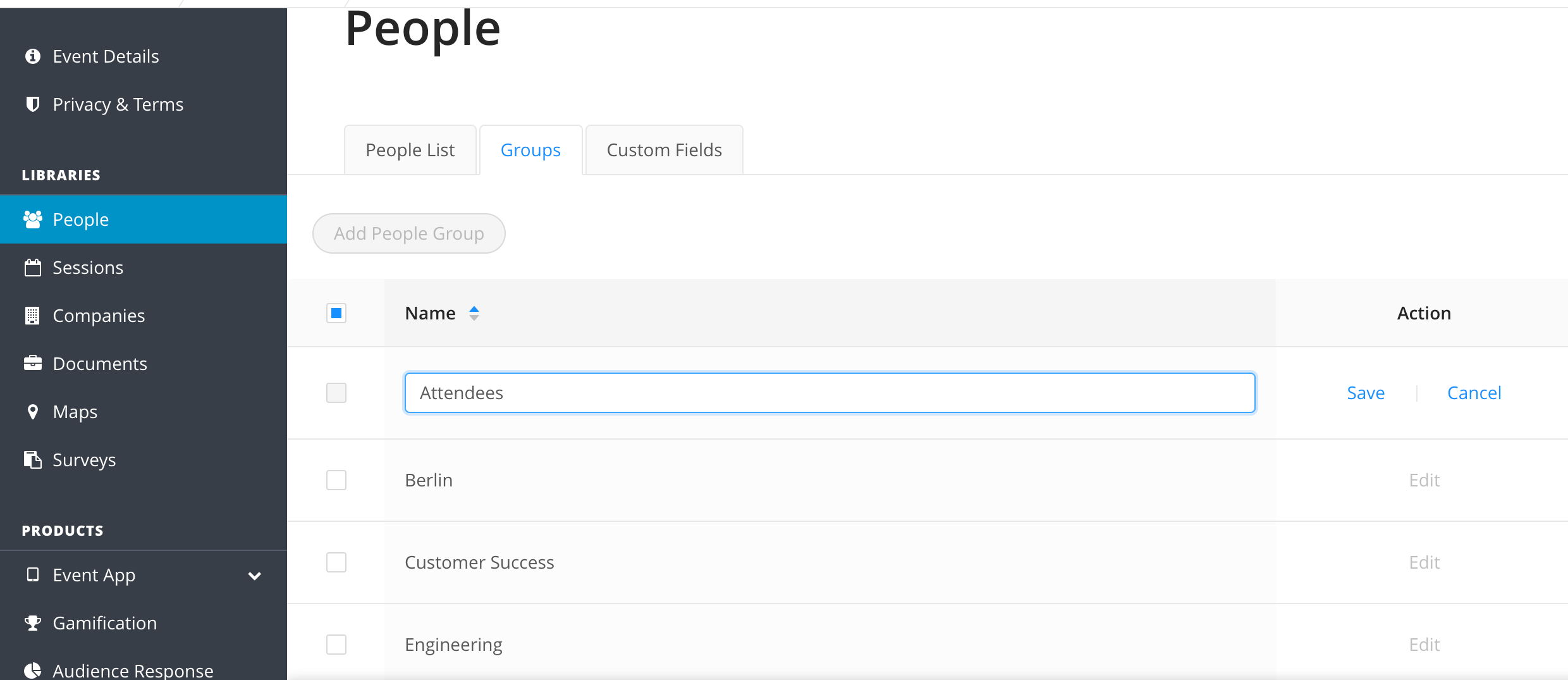 New Feature: Content Visibility
Update released: February 25, 2020
We have added the ability to make Event App sections visible to specific user groups. You will be able to set the visibility for each section to determine whether a logged in visitor can see that section. Any sections that are set to be visible to a group, will not be visible to anyone outside that group or how are not logged into the event app.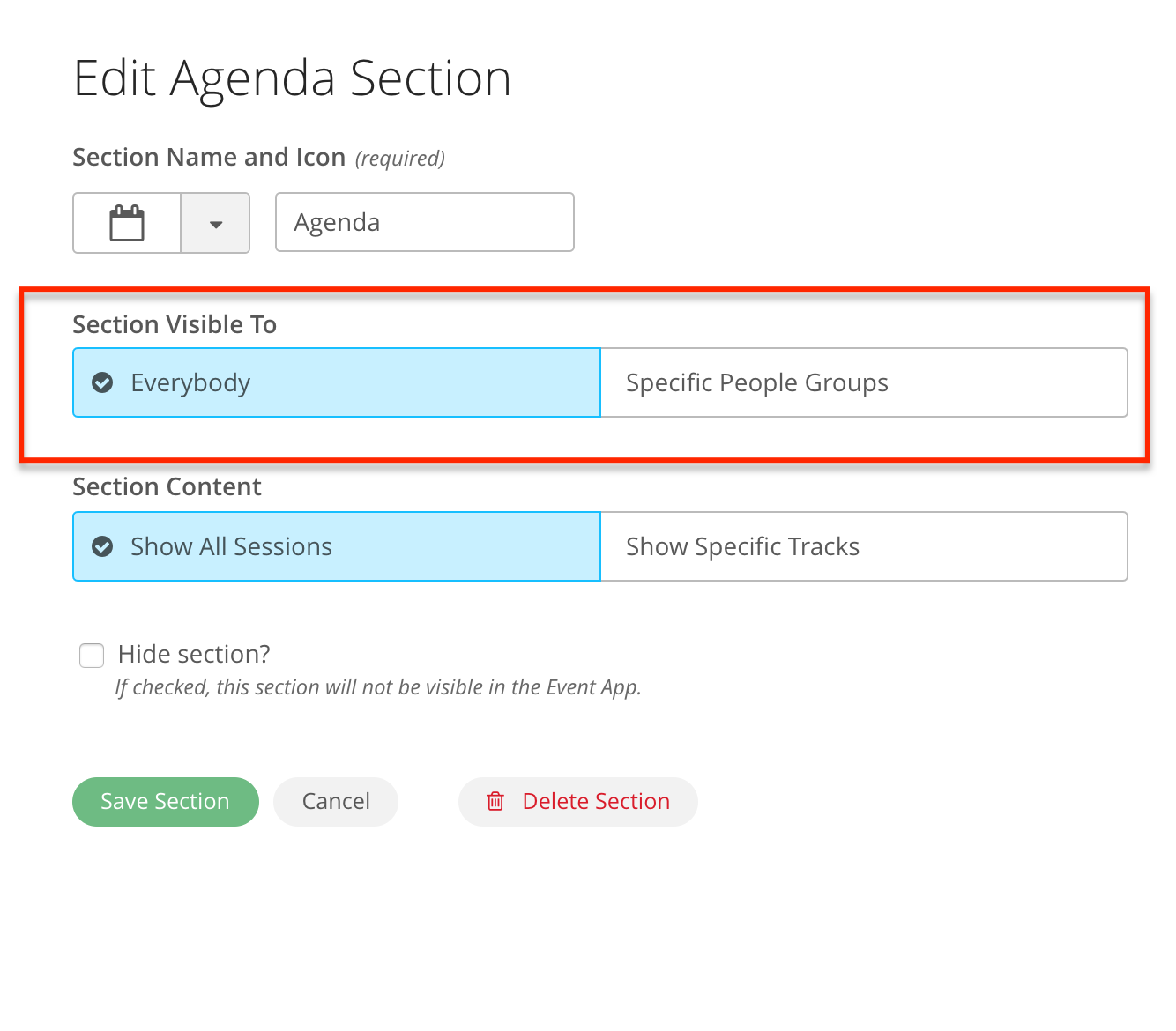 Update: Documents Library
Update released: February 25, 2020
We have added new functionality to the Documents Library. You can now:
Filter documents by document groups.
Sort by document name or document size.
Edit document groups in a new way.
Improved pagination when there are several pages of documents.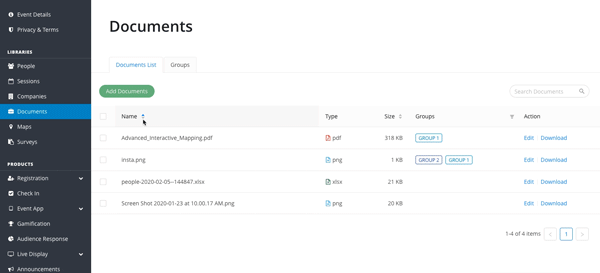 New Feature: Check-in Code
Update Released: December 16, 2019
Events can now be configured by EventMobi staff to include a QR code for check-in use cases. There are 3 ways the value of the check-in code can be populated: people profile field in Experience, Excel import and using our API.
Learn more about using this feature here.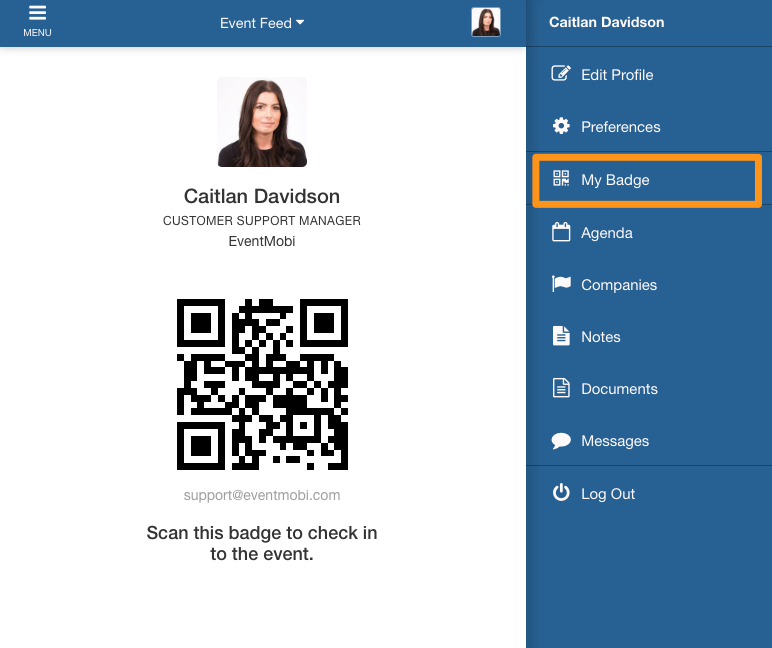 New Feature: People Profile and Activity Feed Image Export
Feature Released: December 2, 2019
People Profile Image Export
You can now export your People profile images in just a couple of easy steps, as well as download your Activity Feed images.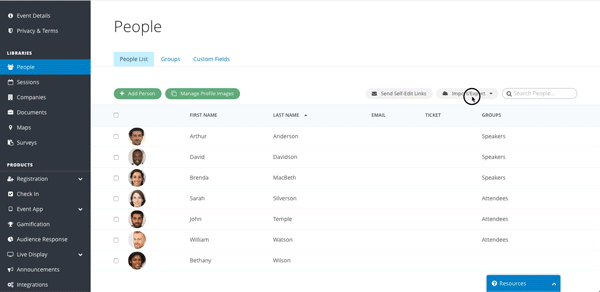 New Feature: Settings Page
Feature Released: December 2, 2019
We have consolidated various Event App settings into a single section, where you can manage your event app settings, add a custom domain, and set your event app security settings.
In addition to the custom domain, and security settings, you can now set the default people section sort order (First name/Last Name), allow attendees to manage their own schedules, enable or disable the ability to tweet from the sessions, and more.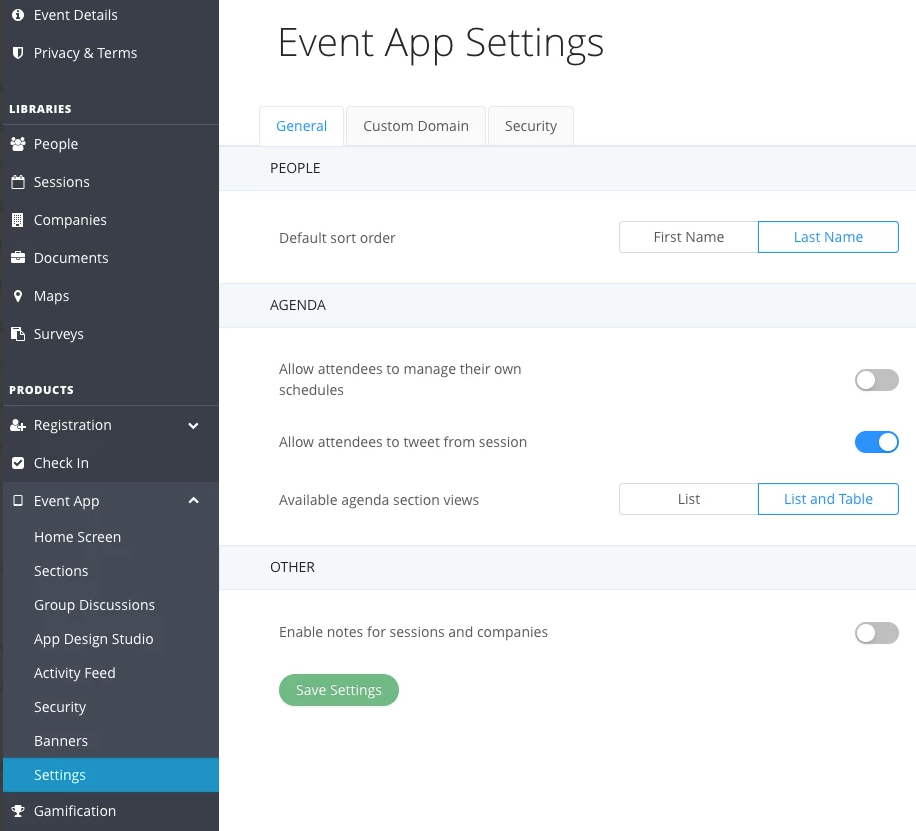 New Feature: Manage Profile Images
Feature Released: October 16, 2019
Event planners are now able to bulk upload profile images, match and crop them - all within a streamlined wizard. An auto-matching feature is built-in to pre-match profile images to attendees if the file name is the email address of the attendee.
You can find details on using this feature here.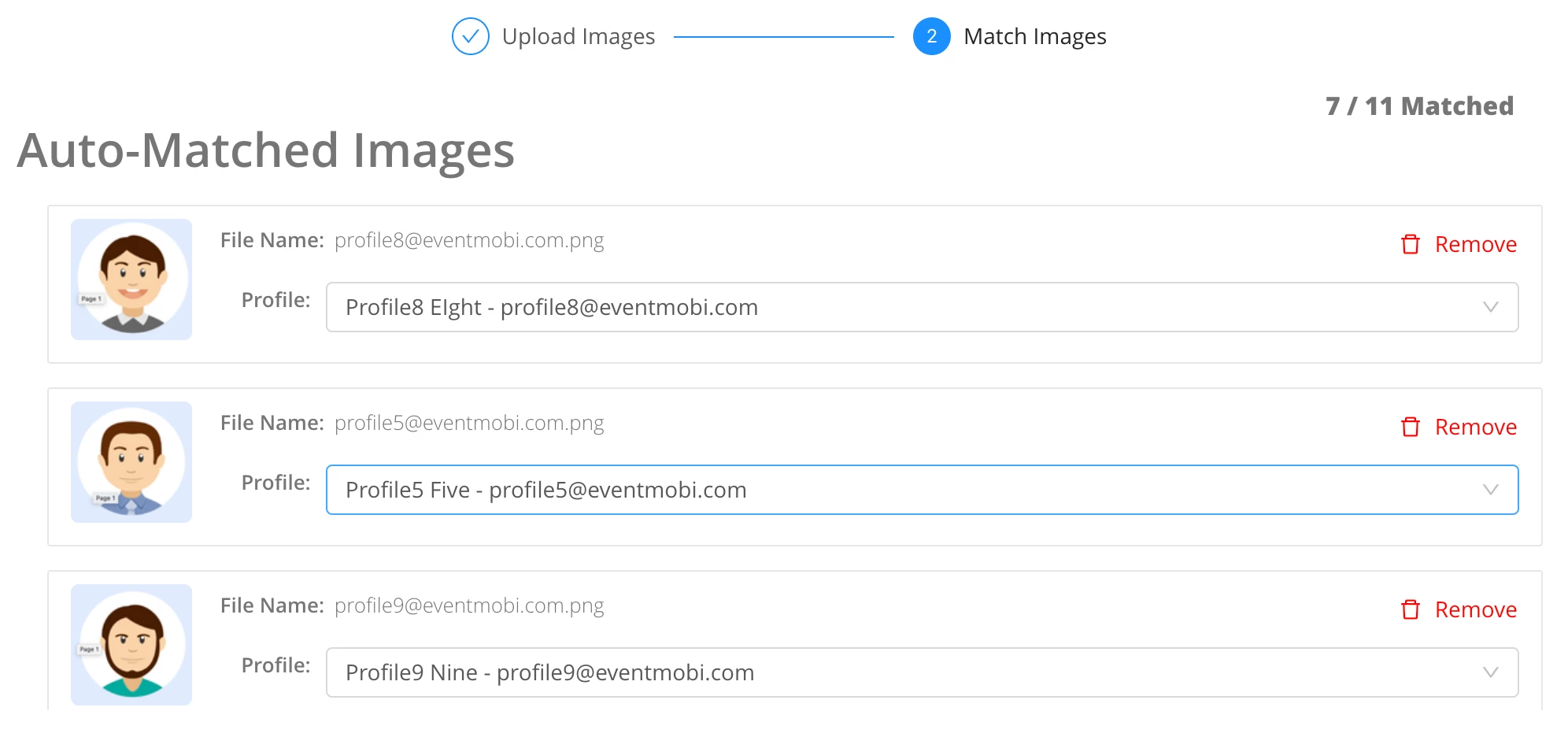 Update: Push Notifications
Feature Released: October 15, 2019
Attendees are now able to receive push notifications for chat messages and appointments. This is enabled by default, and the attendee can opt-out of this feature from the attendee preferences page in the Event App (on the right-hand menu).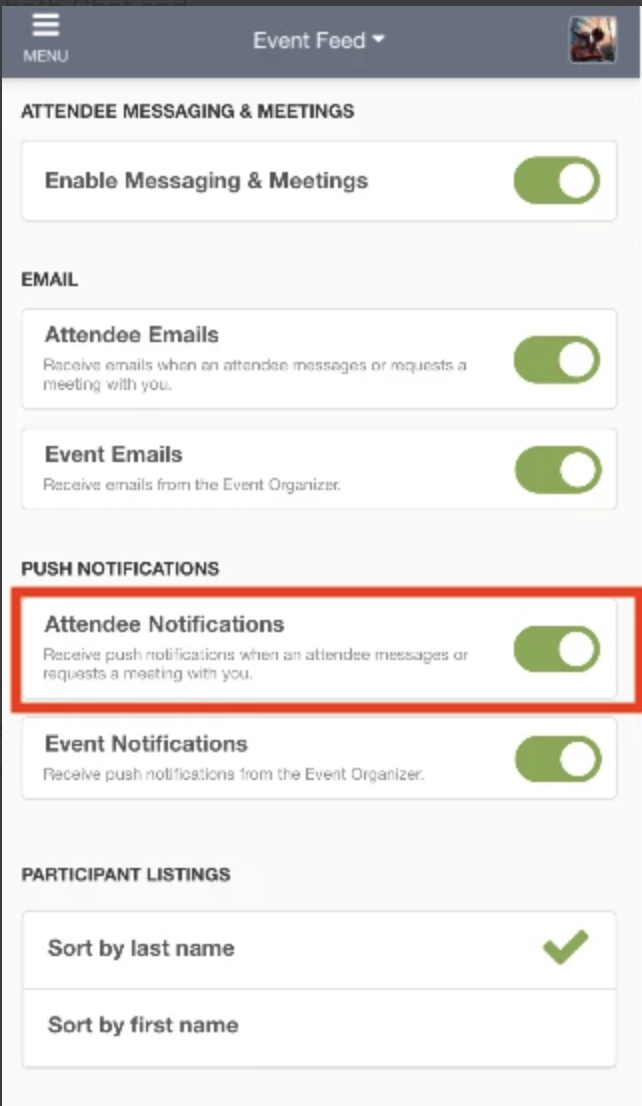 Update: Image Widget Library
Feature Released: September 18, 2019
A link to our image widget library has been made available to organizer as they build their Event App home page.. The image widget library offers planners with limited graphic design resources to quickly create beautiful looking apps.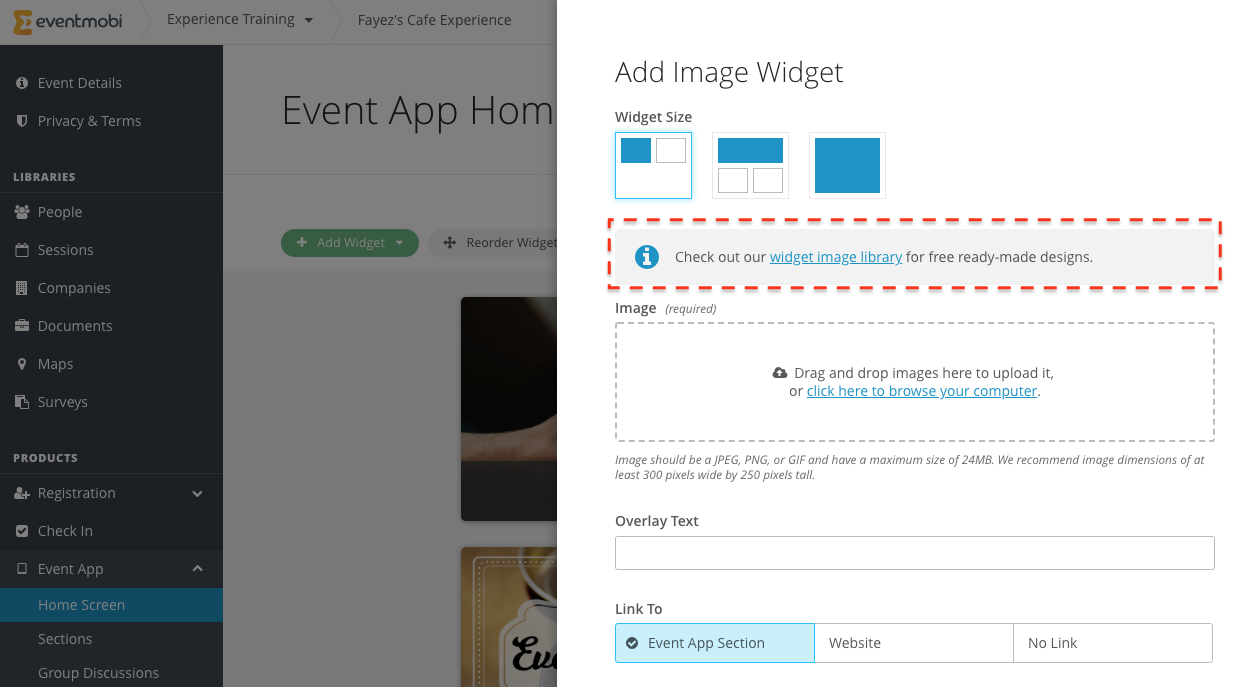 New Feature: Advanced Interactive Mapping
Feature Released: September 16, 2019
The Advanced Interactive Maps (AIMs) are available starting today. Advantages of AIMs include creating multi-floor venues, finding directions between locations, location search and much more. Pricing and packaging has been updated and AIMs will be included for Max Unlimited and Executive.
Learn more about Advanced Interactive Mapping here.