The Company Portal offers a seamless way for the companies of your event (sponsors and exhibitors) to edit and manage their profile and Lead Capture feature.
Assigning Company Admins
When creating Company profiles for your event, you will have the option of assigning specific Company Representatives as a Company Admin. This role invites the representative to log into the Company Portal where they can build and manage their profiles and leads.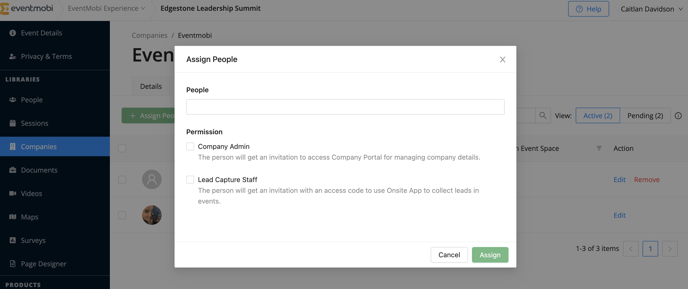 Once a representative has been assigned the role of Company Admin, they will receive an email invitation that will prompt them to log into the Company Portal.
Note: The number of Company Admins is not limited per company, so you will have access to add as many people as needed.
Update the Company Profile Details
From the Company Details area, Company Admins will have access to update the details of the company profile that will be displayed within the Event Space. From this area, the Company Admin(s) will have access to:
Add the company's logo and description
Embed a video within the profile
Create a Call To Action button
Input contact details
Share resources such as documents or external links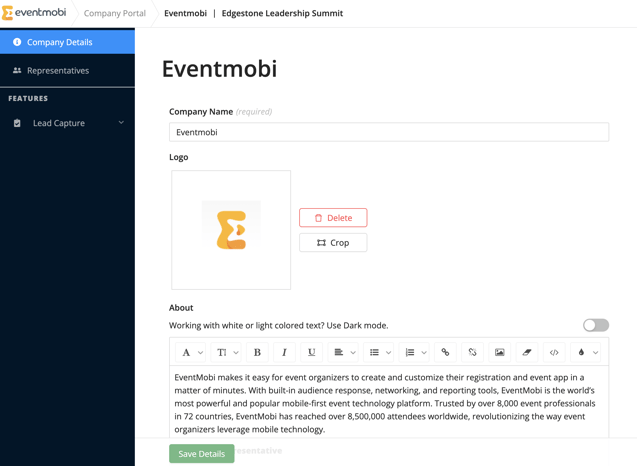 Manage Company Representatives
The Representatives area is where Company Admins will have access to view the representatives that have been added to the profile by the event organizer, including which role each representative was assigned (Company Admin or Lead Capture Staff).
From this page Company Admins will have access to:
Determine which representative's profiles will be displayed from the Company Profile
Which representatives will be assigned as Lead Capture Staff
Assign other representatives as Company Admins when needed
View the Active and Pending invitations that have been sent to representatives
Re-send invitations to Company Admins or Lead Capture Staff as needed
Re-order representatives to set the order that they will appear within the Company profile

Managing Lead Capture
Company Admins will also have access to manage the Lead Capture feature for their company, when applicable.
From the Lead Qualifiers page Admins will have the option of creating additional qualifying questions that Lead Capture Staff will need to complete when capturing leads using the Onsite App.

The Lead Collection page will provide Admins access to any lead data that was captured at the event so that they can review, remove or export it as needed.