Cookie Consent is a requirement of the European General Data Protection Regulation (GDPR) and requires that all visitors to the Experience Manager or the Event Space provide consent to the cookies that will be captured.
Enabling Cookie Consent for the Event Space as an Organizer
Visit the Login Page area found in the Event Space product of the Experience Manager
Adjust the toggle to Enable Cookie Consent Banner so that it displays blue
Select the checkbox Link To Privacy Policy if you would like to include a link to this information from the Cookie Consent Banner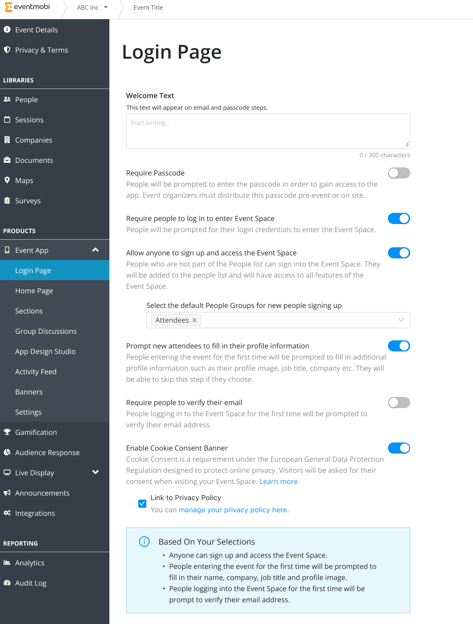 Note: If you are selecting the Link To Privacy Policy option, you will want to make sure that you update the Privacy & Terms area of the Experience Manager, as this information will be referenced.
Once Cookie Consent has been enabled, you will notice a message within the Analytics area of the Experience Manager notifying you that some data collection and availability may be impacted when cookies are disabled.
Adjusting Cookie Consent Settings on the Event Space as a User
When logging into the Event Space, attendees will see the Cookie Consent Banner will displayed at the bottom right of the page or under the login area (depending on if they are using a desktop or mobile device).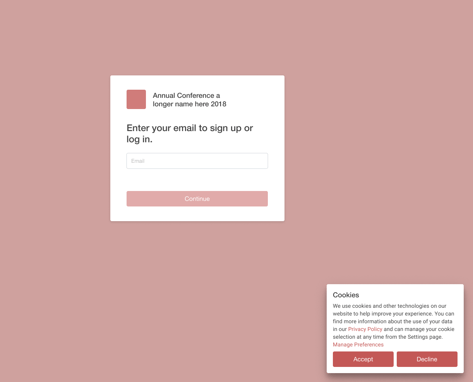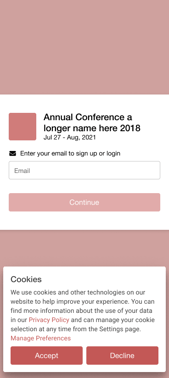 The banner will include options to Accept, Decline, Manage Preferences and to access the Privacy Policy (if you have enabled this option).
Users can adjust their Cookie Consent Settings on the Event Space at any time by visiting the Attendee Dashboard using the following instructions:
Click on the profile image at the top right of the Event Space to open the menu
Select the Preferences option available
Click on Manage Preferences under the Cookie Settings area
On the pop-up that displays, the user can select between the following options:

Strictly Necessary Cookies
Analytics Cookies
Accept All
Reject All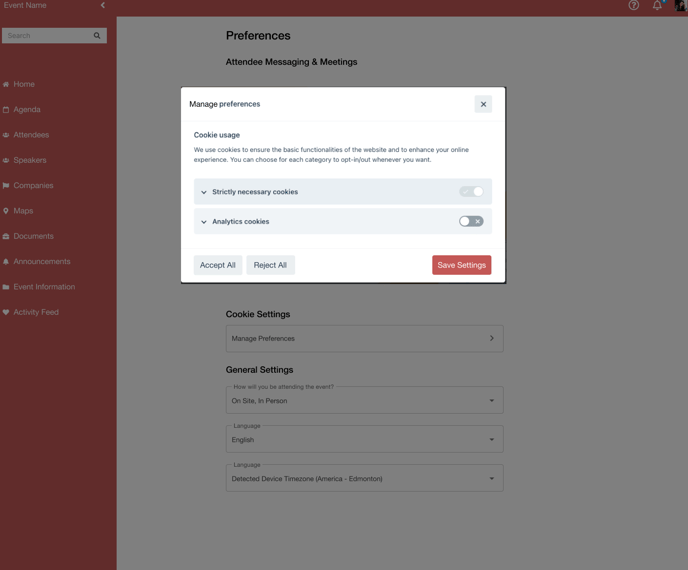 Note: Some features in the Event Space, such as Live Chat Support will require cookies to be enabled. Users may notice that this option is not accessible while cookies are disabled.