This article will walk you through how to determine your attendees log in experience and your customization options.
Determine How Your Attendees Login
---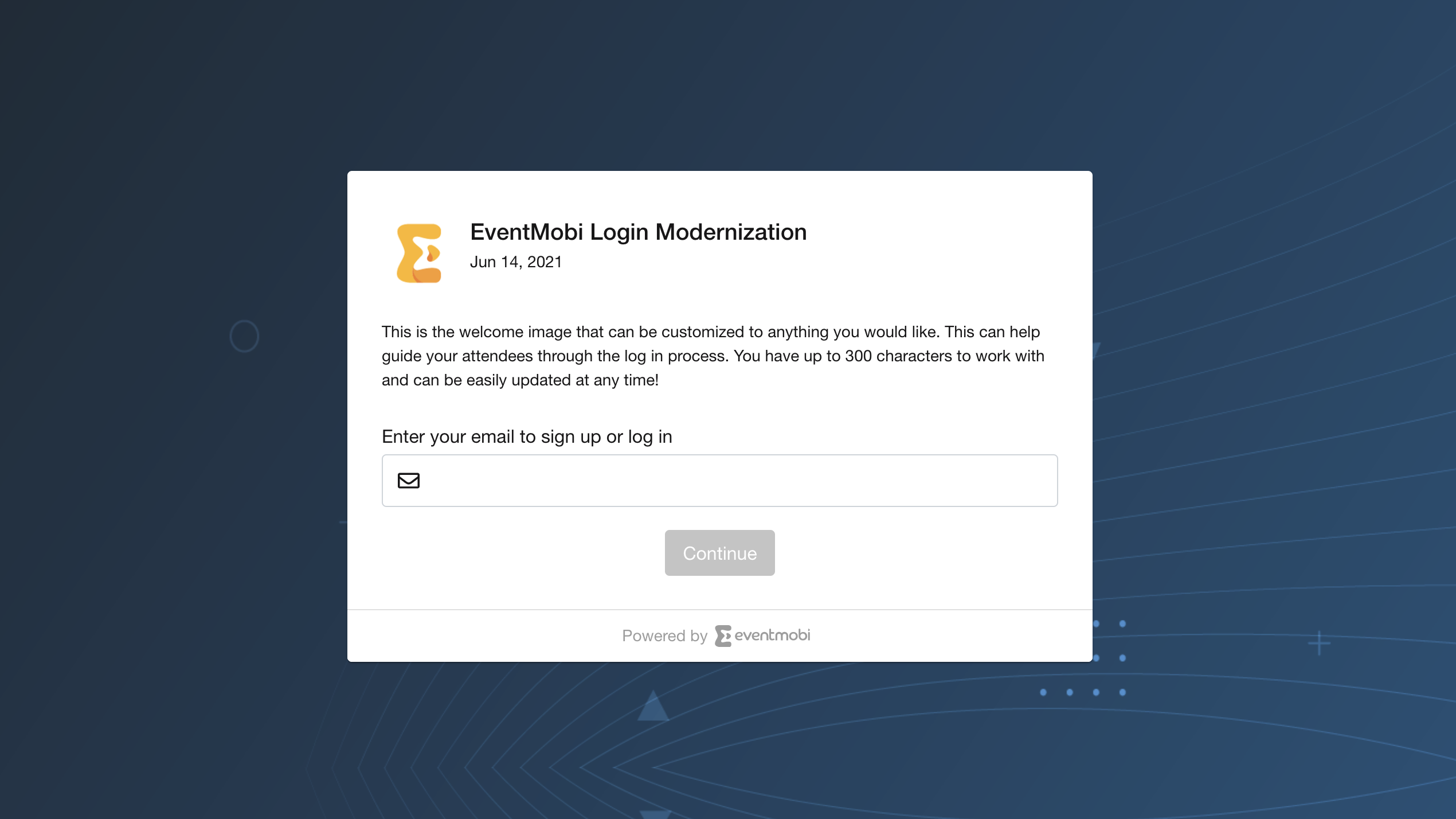 The log in page is the first thing attendees will see when they access your event, it sets the tone and becomes the very first impression before they even see the content within your event. We've made it very easy to create an amazing log in page that perfectly matches the branding of your event space.
Note: Once your app has been activated, it can be accessed immediately. This can be done using the Event Space URL (eventmobi.com/EVENTCODE) in the browser of your device, or through the EventMobi Universal App that can be downloaded directly from the Apple App Store, and Google Play.
Determine How Your Attendees Log in
Login Settings & Security
Editing the log in experience for your attendees is done through the Login Page area of your Experience Manager. You can find this option located under the Event App option of the Products menu.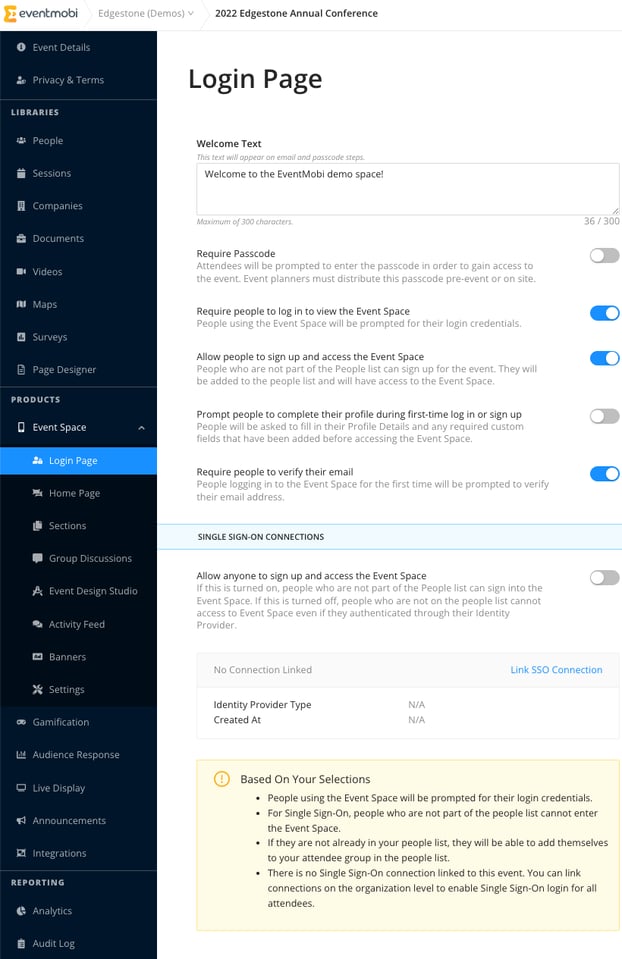 Require Passcode
Passcodes are an easy way to add an additional security step into your login process. Your attendees will be required to enter the passcode you have assigned before they can begin to enter their credentials.
It is important to send this passcode to anyone that you would like to access your event space as there will be no way to bypass this step unless they enter the passcode. You can include the passcode in your invitation or in any confirmation email when your attendees register for your event.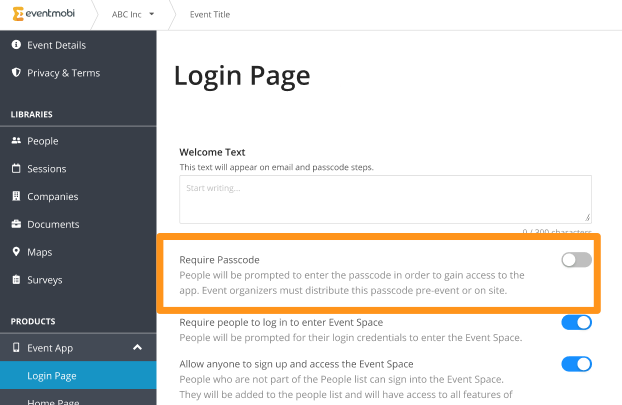 Event Passcode Example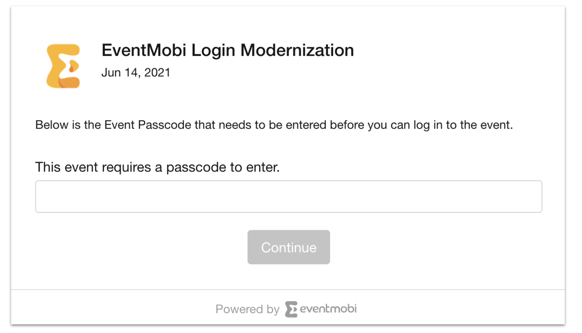 Require People to log in
Requiring people to log in to view the Event ensures that anyone who gains access to your event will have to complete the log in process before proceeding.
When an attendee logs into your event, they will be immediately greeted with a log in step. They will need to enter their email and password.
If it is their first time logging into an EventMobi event space, they will be asked to verify their email to ensure they own that email. If they have logged into any EventMobi event before, they can use the same email and password combination to proceed.
This step shows up after the passcode stage.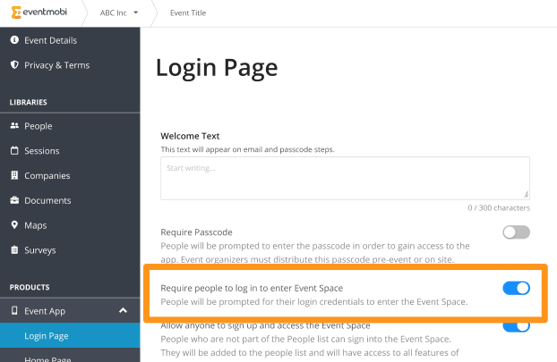 Login Process Example

Allow People to Create their own Profile
Allowing the option for people to create their profiles is a great option for events where you want people to be able to join your event after registration. If you have not added the person into your People list, they will be able to automatically generate their own profile by completing the log in process.
When they enter their email, first and last name, it will automatically create an entry in your people list so that you can keep track of people who're logging into your event.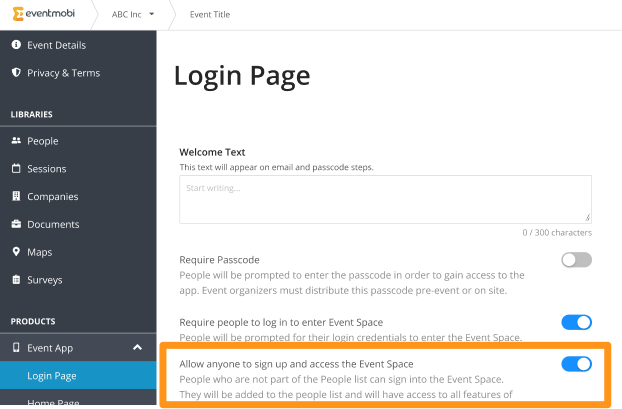 Prompt New Attendees to Fill their Personal Information
Creating profile pictures are important in any event to gather information for the attendee and having a face to a name makes it easier for other attendees to know who they're talking to.
You can enable the option to allow all new attendees to edit their profile right from the login page.
Once they enter their email and password, they will see another screen that guides them through uploading their profile image, job title, company, about, and confirm their timezone.
This step can be skipped if they wish to skip this step during the log in process.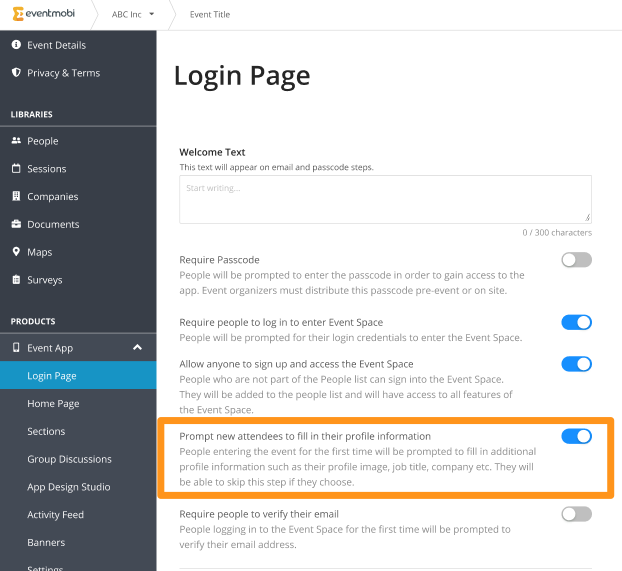 Log in Profile Editor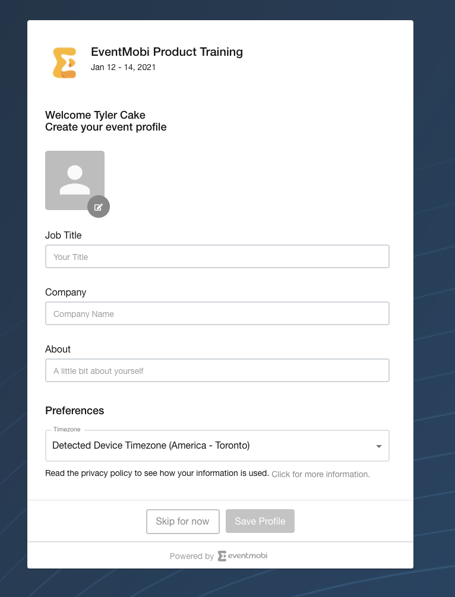 Enable Email Verification
To make your event even more secure, you may want to consider enabling the toggle to 'Require people to verify their email', under the Settings area of the Experience Manager.
Enabling email verification will prompt an automated email during the login process that attendees will need to use to confirm that they the email address they are logging in with belongs to them.
It is important to note that attendees that are connecting from a work device may in some cases experience difficulties receiving this email if their network is protected by a firewall. If you are choosing to enable the email verification setting, we recommend sharing the following
whitelist
to your attendees who can have their IT teams enable the proper permissions to receive this communication.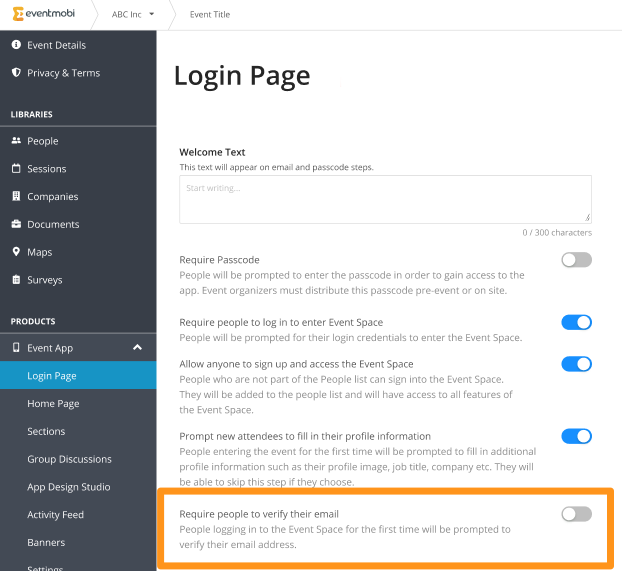 Customization Options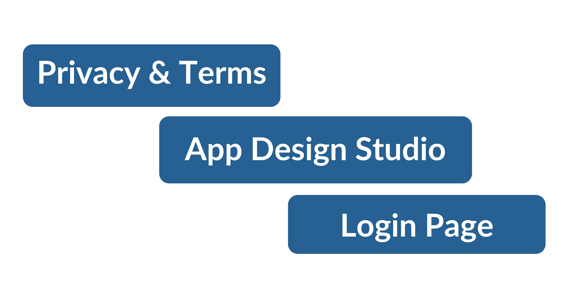 Any part of your event needs to consistent and match the exact branding that you want. Our customization options allow you to easily change the font and link colours and event put custom messaging right on the log in page.
You can find your customization options below:
Welcome Text: Event App > Login Page
Link & Content Color: Event App > App Design Studio
Welcome Text
The welcome message will be the first thing your attendees will see during your log in process. This is an essential option to assist your attendees through the next step of logging in.
You have 300 characters to enter any text that you feel best fits your event. You can instruct attendees to use the same email they entered during registration to avoid confusion.
This message will show up on the Event Passcode log in step, we recommend to inform them on where they can find their passcode in the case you take advantage of that feature.

Welcome Message Example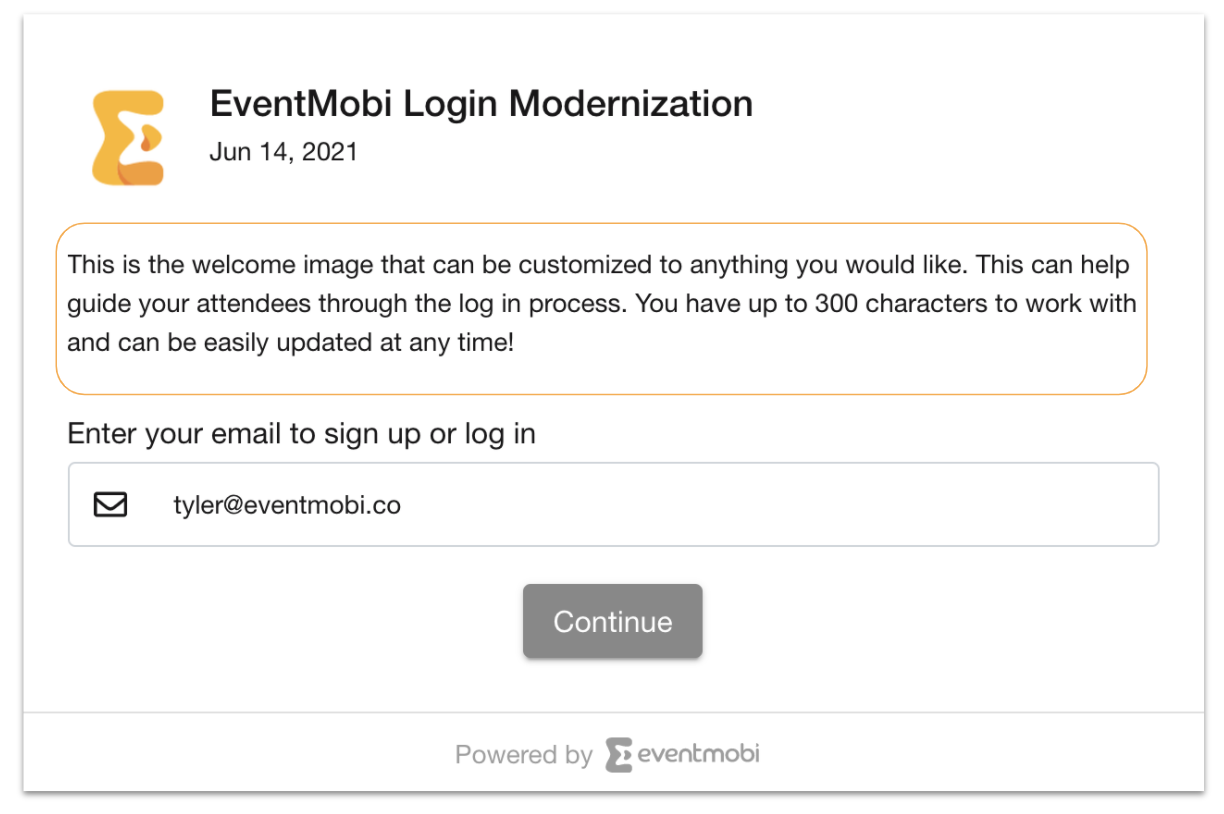 Background Image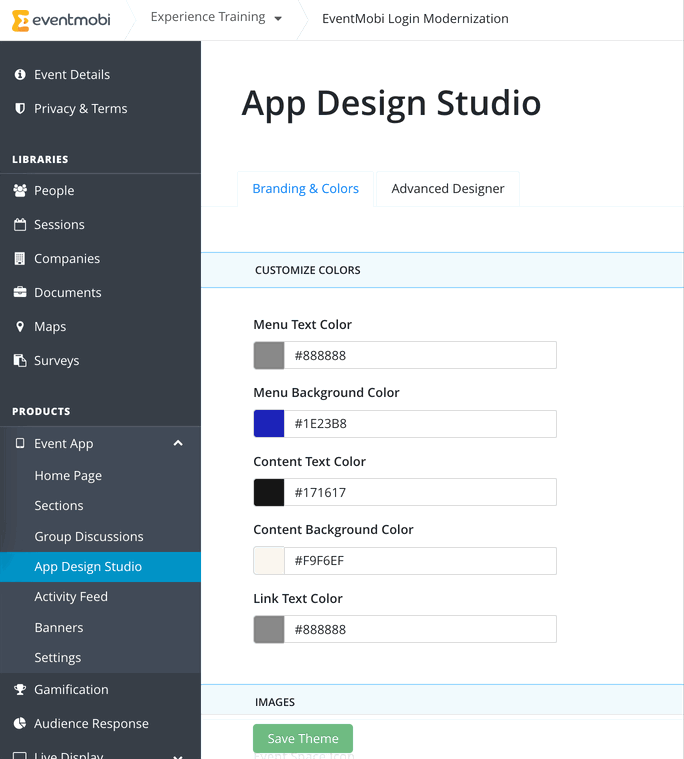 The background image can be found within the Event App > App Design Studio > Scroll to bottom of page. The log in background image is an easy way to create that initial wow factor for your attendees when they're greeted with your log in page.
You have the ability to use a solid color or image. The solid color will allow you to choose from a color picker or by simply entering the hexcode to easily match your exact branding. Uploading an image is as easy as dragging and dropping it into the field that populates when you click the Image option.
Background Images should be at least 1920px x 1080px to avoid pixelation, but we recommend using an image that is 3000px x 1668px when possible. Image files will need to be 24mb or less.
If your image isn't fitting correctly, you can use the crop tool to select a smaller area of the image.
Content & Link Color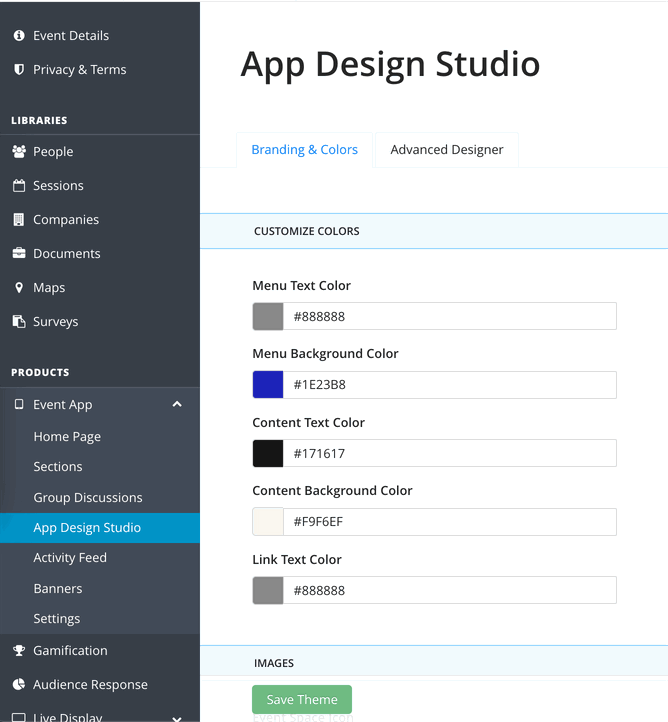 There are two options within the App Design Studio where you can select from two text options:
Content Text Color & Link Text Color.
It is important to know that these affect the login page as the colors you choose will need to be considered for the log in page. If you choose white, it will make the text very hard to read during the log in process.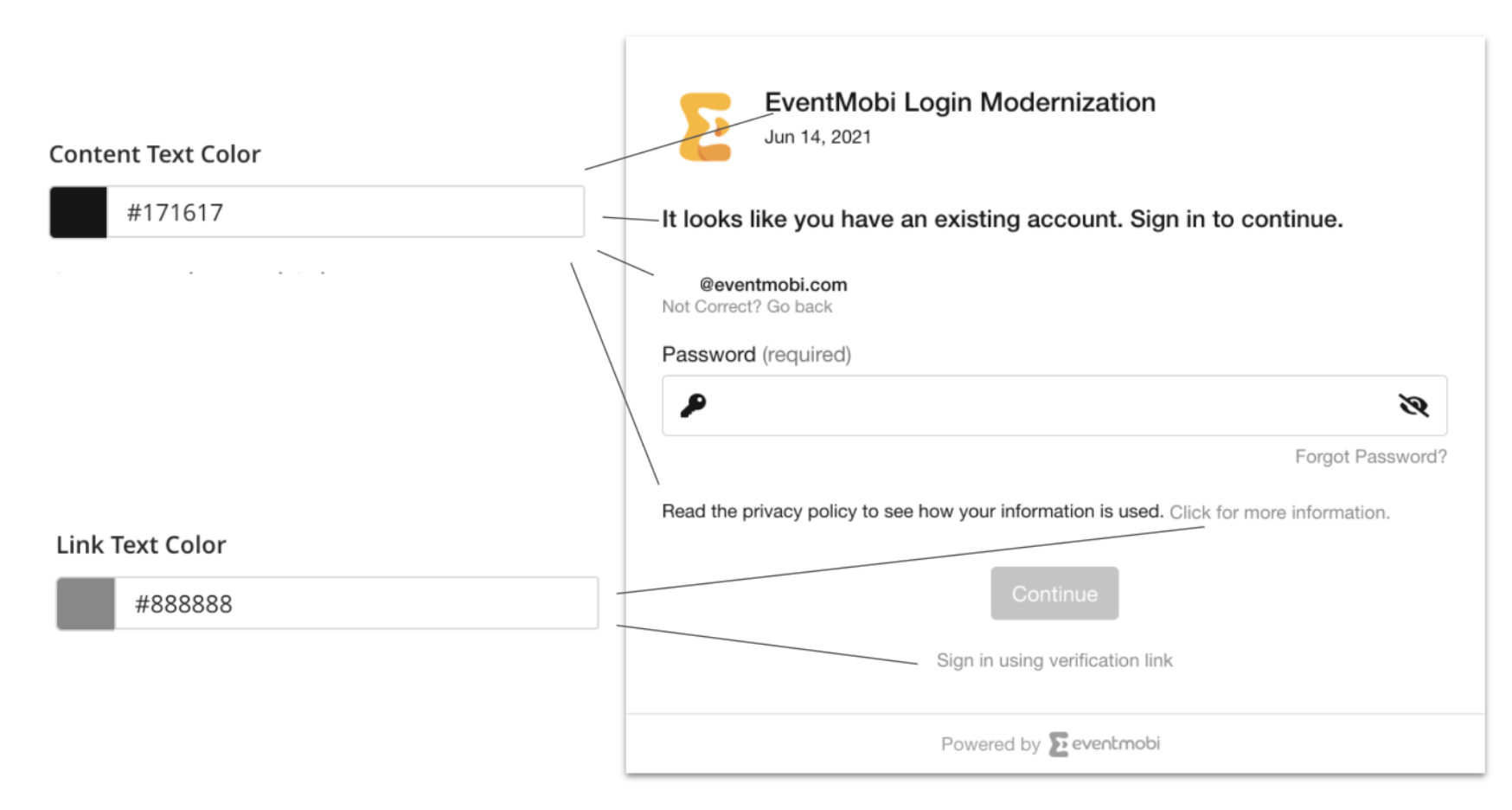 Privacy & Terms
Informing attendees how their data will be used and stored is very important, this is why we make it very easy to provide that information to them right from the login page.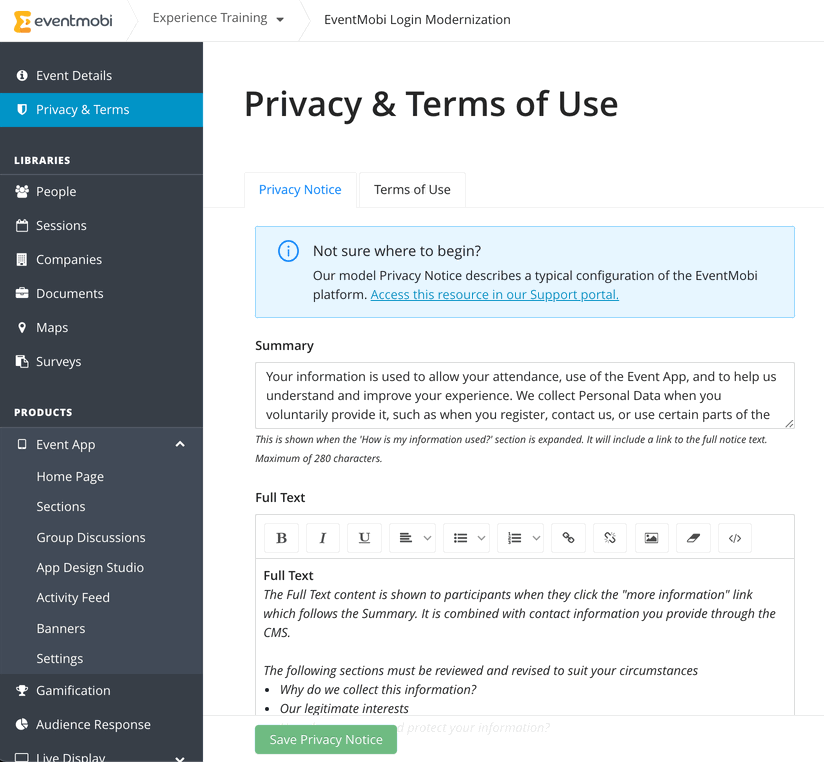 You can add your Privacy & Terms in the Experience Manager by selecting Privacy & Terms on the left-hand menu. From there, you will see the option Privacy Notice & Terms of Use.
Once the Privacy Notice fields 'Full Text' and 'Contact' are filled up, the attendee will be able to see and click on a link called 'Click for more Information' to read the Privacy Notice content at the Event Space Login page.
The Terms of Use will only be visible from the Login Page once the Full Text field has been updated. It is also significant to note that the Terms of Use checkbox will only display for users who are logging into the Event Space for the first time.
If you'd like to know more information about adding your Privacy & Terms, you can find more information here.
Example of Privacy Notice