What are Libraries?
All of the main pieces of information about your event can can be viewed and managed from the Libraries.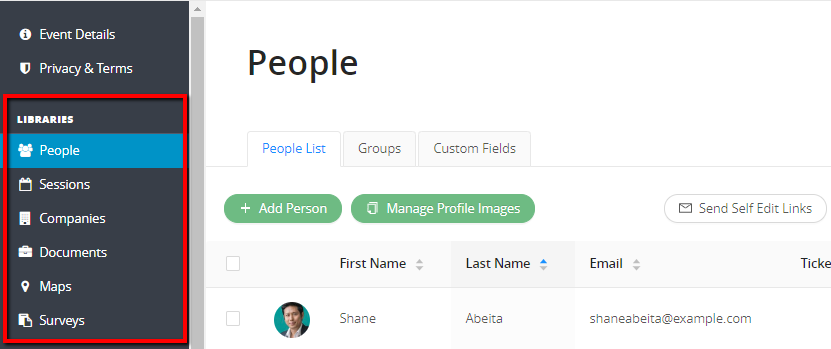 Each of the following types of data has its own dedicated Library:
- People
- Sessions
- Companies
- Documents
- Maps
- Surveys

People
The people library is where you manage the information for your people like your speakers and attendees, and assign them to groups.

Sessions
Your agenda sessions are managed here. You can also create tracks and assign session roles, such as moderators, to these sessions.
The sessions area also includes the Live Polls and Ask a Question engagement features.

Companies
Your sponsors, exhibitors, and vendors go here. You can also create groups for your companies.

Documents
Any documents you want to include can be added here, along with the option to group documents together.

Maps
Your maps can either be uploaded as a picture from your computer or embedded through Google Maps.

Surveys
Session feedback and event surveys can be added here. For live polls or the Ask a Question feature, you can edit those in each session in the Sessions Library.

Sections
While all of it is available to you in the Experience Manager, you decide what appears in the app to your attendees. In the Sections option under Event App, you can create menu sections that can either show all of that information or select groups of people, sessions, companies, or documents to display.