The Event Space offers many different ways to promote the people and companies that are contributing to your event as sponsors and/or exhibitors. When it comes to selling sponsorship opportunities, we recommend creating tiered packages that will outline the specific types of promotion that will be included.
The cost, shape and form of the sponsorship packages will ultimately be at the discretion of your team and tailored to your event. To help in making this process easier, we have outlined some of the options that you can include in the packages or tiers that you are creating, outside of creating company profiles.
Designer Pages
The Page Designer offers the flexibility to showcase your top sponsor(s) using visually appealing and eye catching designs. Using a Designer Page, you can promote your key contributors directly from the Home Page, or even create a dedicated page within the Event Space.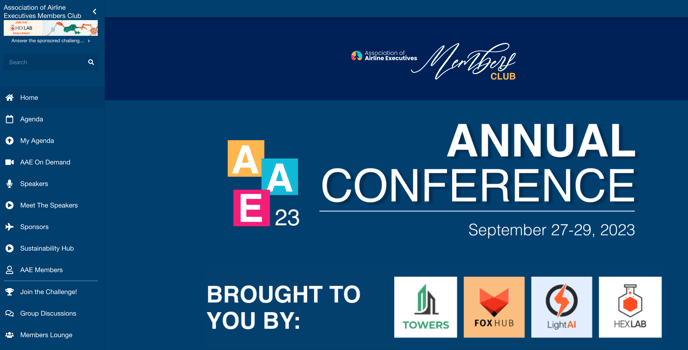 Adding Widgets To Highlight Sponsors
Visit the Page Designer library in the Experience Manager
Select an existing Designer Page or choose the Add Page option to create a new Designer Page to highlight your sponsor(s)
Click on Add Widget to add content to the Designer Page you are working, Image and Text Block are best suited to share logos and information about your sponsor(s) directly from the page
Select the Mobile View (if applicable) to adjust the design for a smartphone device screen
Click on Publish Changes to save your design
Visit the Home Page or Sections area in the Experience Manager to assign to the Home Page or a section of the Event Space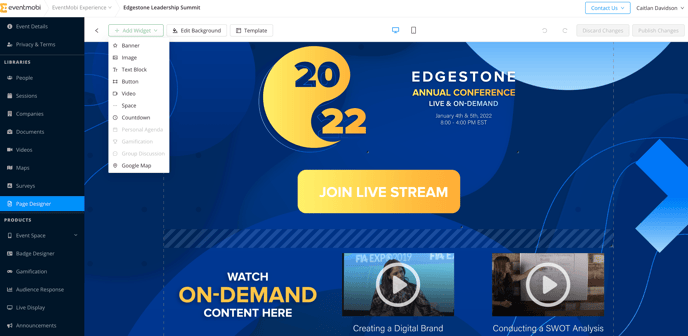 Banners
Banners help in promoting your top sponsor(s) from various areas of the Event Space, including the top of the lefthand menu, and within your People, Sessions and Companies sections. These ads rotate randomly as attendees interact with the Event Space, and can help in directing them to important content such as the Company profile or a website where they can find more information.
Banners can also be used to promote any sessions or activities that are being hosted or presented by your sponsors, if you choose.
Learn more about showcasing companies, including how to create Banners in the following onboarding video.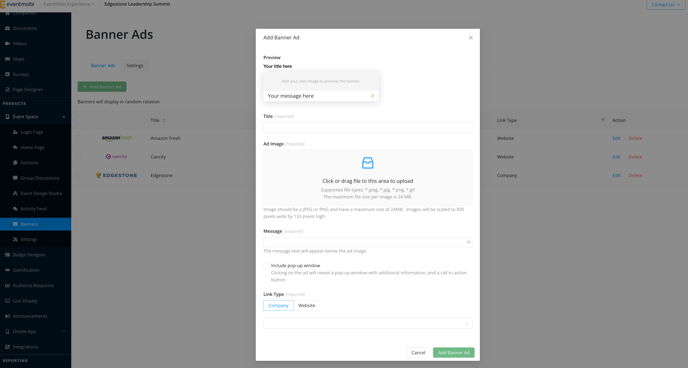 NOTE: Use the Settings area to disable Banners from specific section types, when needed. You can also create multiple ads for any sponsor(s) that you would like to have appear more frequently within the random rotation.
Sponsored Content
Additional promotional opportunities are offered by allowing companies to sponsor content such as sessions, activities or surveys. Both of these options can help in connecting your sponsors with attendees by offering additional exposure, interaction and/or the collection of data that can help them in gathering leads.
Check out the following videos on Creating Sessions and Creating Surveys for more information!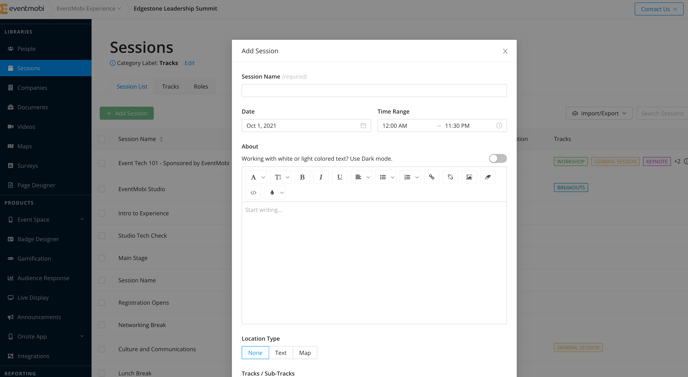 Gamification Challenges
Creating challenges encouraging attendees to visit sponsor and exhibitor booths onsite or virtually can help in creating traffic to the companies contributing to the event with minimal effort required on their part.
Within the Gamification option of the Event Space, attendees will see the challenges that you have created, and will be able to complete them in any order that they see fit. To bring more visibility to specific sponsors or exhibitors, you can adjust the order that the challenges display within the game itself.
To receive points for the challenge, attendees will need to receive a passcode that they will then input into the Event Space - these codes will need to be unique for each challenge that you are creating and will need to be distributed to the Company Representatives so that they can share them with anyone that visits the booth to learn more.
Check out this article for instructions on how to create your Game Challenges!