Gamification
Gamification is the real-world application of games and gaming mechanics to solve problems and achieve business objectives. This may include incentivizing problem-solving and engagement, and adding a layer of competition to motivate people to act.

Playing The Game
EventMobi Gamification takes the form of versatile passcode challenges that attendees can access right from the Event Space.
Virtual Space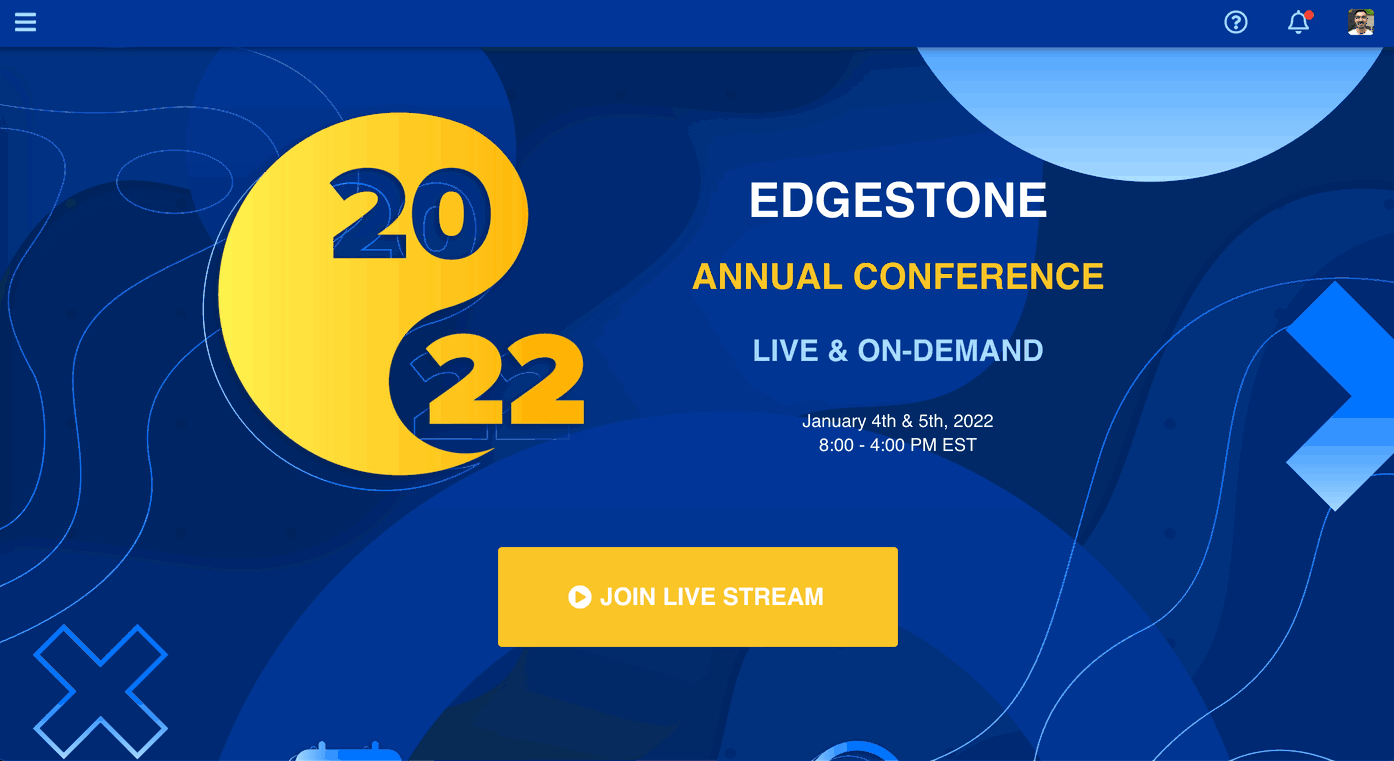 Mobile App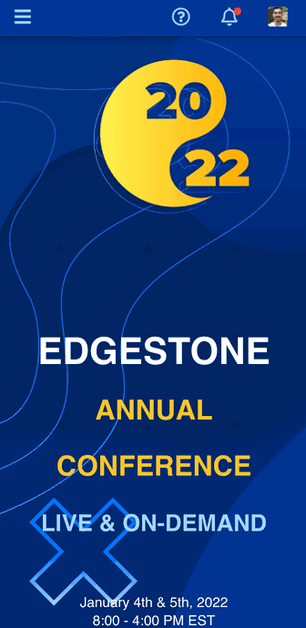 To complete a challenge, attendees need only enter the passcode you've created for it at the top.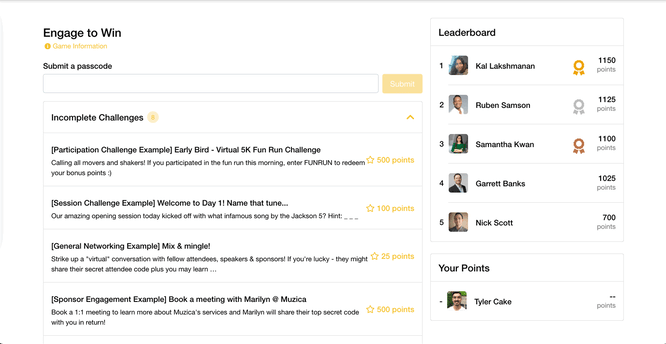 Creating The Game
Game Design
Before we get into the nitty gritty of how to build your game, it's worth mentioning a few things about game design. The first is that you want to align your game and your challenges with your event objectives, creating incentives for doing actions that will lead people to the takeaways you want for your event. If you want people to register early, put a passcode at the end of the registration page and get people rolling with the game from the start.
If you want people to network, create challenges around making connections.

Setting Up Your Game
1. Click on the Gamification option under the Product menu item, and access the Settings area
2. Name your game and provide a description of the game that will appear when people start the game.
3. Decide whether to hide all your challenges by default so you can stagger them or reveal them on your own time. It's important to note the distinction between hiding them and disabling them. Hiding them removes them from the challenge listing in the game, but people could theoretically still enter the passcode and complete the challenge. Disabling the challenges allows people to see the challenge in the list of challenges but prohibits them from responding to the challenge.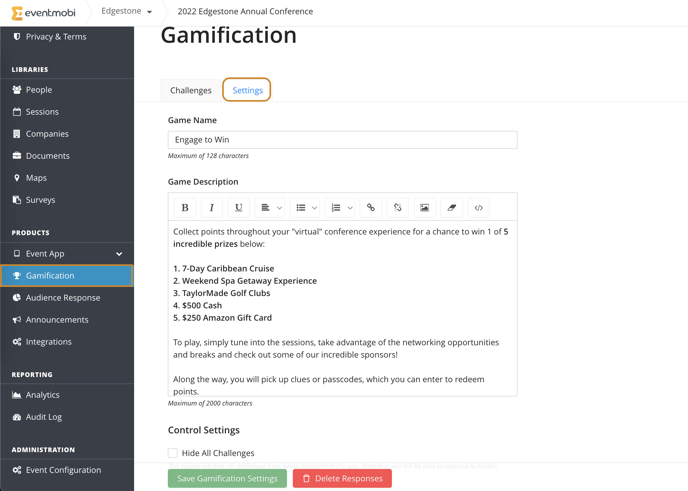 Creating Your Challenges Manually
1. Access the Challenges area under Gamification
2. Click Add Challenge
3. Name your challenge and allot the points for completing it. Use the description to give your attendees instructions for completing it
4. Assign a unique passcode for the challenge you are creating. This can be any alphanumeric code under 32 characters
5. Deselect the Enable Challenge options if you would like to reserve this challenge for a later time in your event
6. Click Add Challenge to save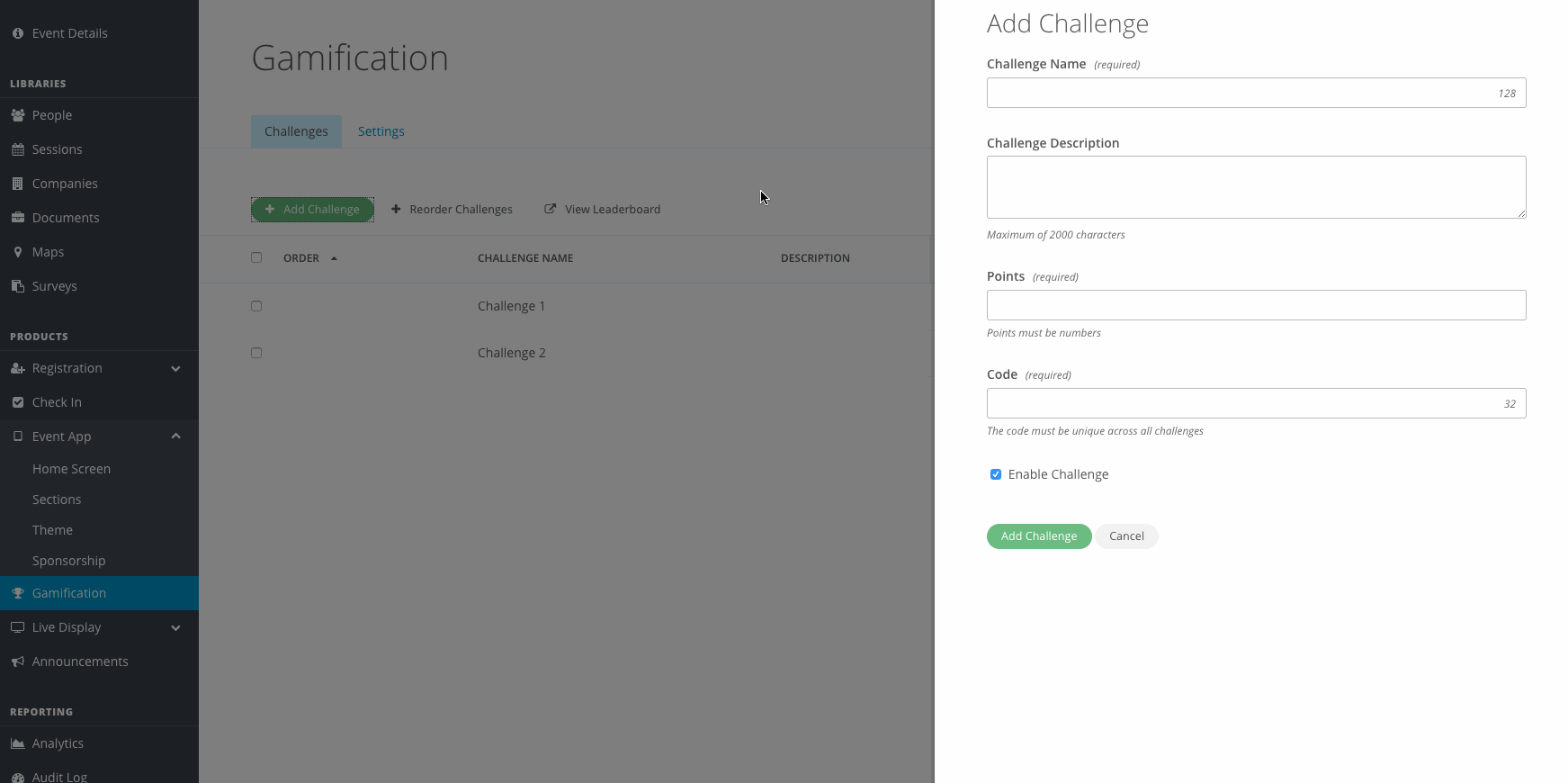 Creating Your Challenges Through Excel
1. Download the Excel templates by clicking on the Import/Export option located to the right side of the page, and choose Export Challenges from the dropdown menu.
2. On the template you download, fill in your challenges and use the Order column to determine the order in which the challenges will appear. Mandatory fields are indicated with an asterisk. (Note: The External ID is generated once the template has been imported into Experience)
3. Save your spreadsheet and import it back into Experience by clicking the Import/Export option and selecting Import Challenges from the dropdown menu.