A data or internet connection will be required to access the Event Space initially, however, once this has been done the Home Page, Agenda, Companies and Maps will be cached to the device and will continue to be accessible even once the device goes offline.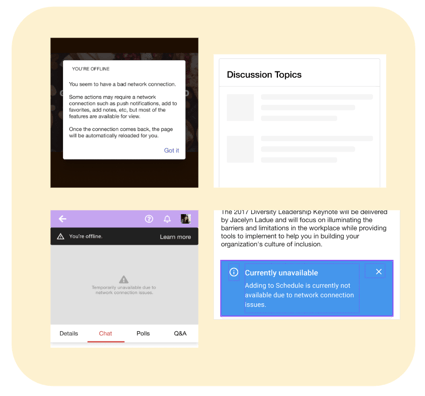 What information will be available offline?
Home Page

Background
Banner Widget
Image Widget
Text Block Widget
Button Widget
Space Widget
Countdown Widget
Personal Agenda Widget

Sessions

Session List
Dates Tab
Timeline
Banners
Session Description
Locations
Session Tracks
Session Roles
External Link List

Companies

Company List
Banners in the Company List
About
Call to Action
Linked Sessions
Linked Company Representatives
Location

Maps

List of Maps
Map Image
Locations (pin drops)
How will a user know if they are offline?
Any areas of the Event Space that are not available in offline mode will offer messaging to notify the user that an internet or data connection will be required to access the event information.
The user will also be presented with various offline notifications within the Event Space, including:
The Offline Banner will appear at the top of the page to notify the user that they are using the Event Space in offline mode. By clicking on the banner, the user can open a pop-up message that will provide additional information regarding offline mode.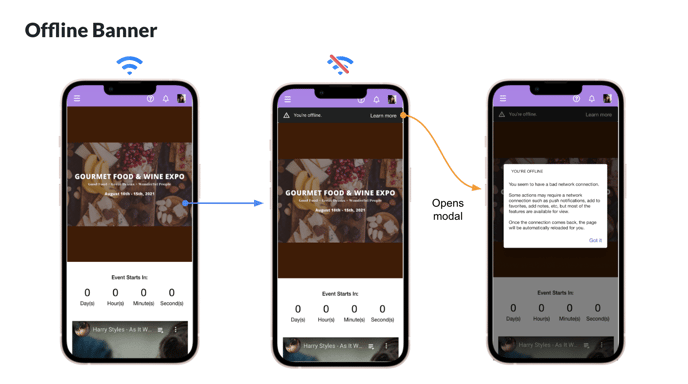 An Offline Placeholder will appear in place of video content on the Event Space, since this content is not available in offline mode. If the Event Space did not have the opportunity to cache before going offline (i.e. the data connection was poor at the time that the user accessed the Event Space), then a "You're Offline" warning will appear instead.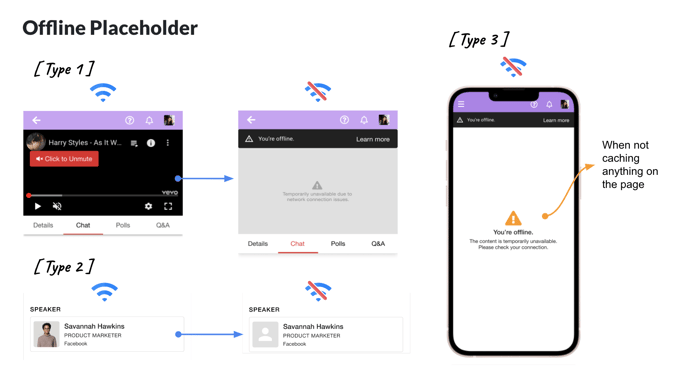 An Offline Toast will display to notify users when a feature is not functional in offline mode, for example, adding sessions to a personal schedule. This will display as a blue pop-up message at the bottom of the screen that includes additional information.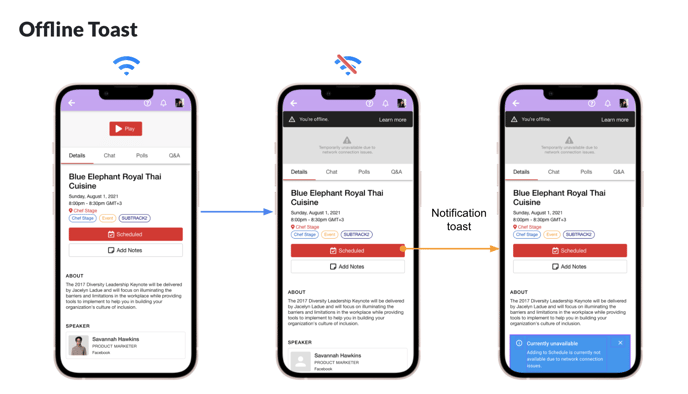 A Skeleton Component will appear in areas where information cannot be populated without a data connection, for example, to indicate people on the Gamification leaderboard, or posts made to Discussion Groups or Session Chat.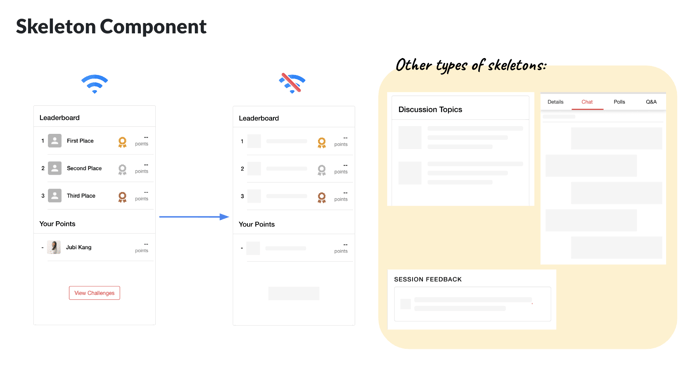 What device types will support offline mode?
Any device and browser that supports the Event Space will also support Offline Support. You can find a full list of supported devices here.
An initial connection is required for attendees to access the Event Space and allow the data to cache to the device that they are using. Once this has been done, attendees will continue to have access to important information, even when they are in areas where a wifi or data connection is unavailable.
Will updates automatically appear for users that are viewing the Event Space while offline?
While in offline mode, the user will have access to the version of the Home Page that was cached to their device at the time that they accessed the Event Space using an internet or data connection.
NOTE: Any adjustments made to the Home Page or Sessions after the user has entered offline mode will not be made available until the Event Space is once again online.
Why is content not displaying for me in offline mode?
You may need to update to the most recent version of the Event Space in order to access the offline functionality. Make sure to check if a new version of the EventMobi Universal App or your Custom Branded App is available and update if applicable.
It is also important to note that offline mode requires a strong enough connection when accessing the Event Space to permit caching of the Home Page and Sessions to take place. If you have already updated to the most recent version of the Event Space, then we recommend connecting your device to a data or internet source to ensure that caching can take place before going back into offline mode.