If you are planning to use live stream to share session content with your attendees, then managing and monitoring the viewer hours will be important to ensuring that you are staying within your purchased limit.
Live Stream video analytics are broken down into Streaming Hours which represents the number of hours that you have streamed video content to the Event Space, and Live Viewer Hours which represents the number of hours that attendees spent watching the live stream video.
Any Streaming and Viewer hours that have been purchased for your event will be applied at the organization level. This means, that the total balance will be available to all of the events within your organization, allowing you to easily share any remaining balance that may be available.
Viewing Live Stream Analytics for your Event
the Analytics area of the Experience Manager you will find a Live stream option where you will have access to see the total number of live stream viewing time consumed during your event.
To develop a better understanding of where you viewer hours have been used, you can also reference the Live Stream (RTMP) Usage chart to see your viewing trends, and a breakdown of how much streaming time and viewing time applied to each session.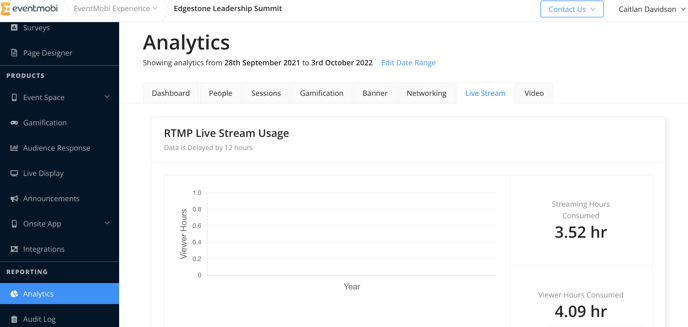 What is Viewer Time
Viewing time refers to the time spent by attendees viewing the live stream content. Viewing time is based on the number of people (or devices) that are viewing the content that is being shared from the session.
View Hours help to give a better sense as to the total number of people that have attended your virtual session, however, it is not an exact representation. View Hours are calculated based on the number of devices that are viewing the live stream, and can therefore appear a bit higher than expected in situations where attendees have connected to the session from multiple devices.
Will I be cut off from live streaming once I surpass my limit of Streaming or View Hours?
Our Live Stream Analytics and email notifications are meant to help you in monitoring how many Live Stream and View hours have been used towards the total available, however, these will not cause any disruption to your live stream connection to ensure that your session can continue without issue. It is important to note that any additional Live Stream or View Hours that you have accumulated over the total available will be invoiced to your account.
Note: Live stream analytics data is delayed by 12 hours and does not reflect the real time view hours or stream hours applicable to your event.