In this article, we'll guide you through the process of launching your registration and making it live, enabling your attendees to register for your event.
By default, your registration page is publicly visible on the internet and can be found through Google search. If you prefer to keep it private and exclude it from Google's search listings, you can achieve this by following the steps outlined below:
Open the CONTENT area in you backend
Open PROMOTION
Set SEO Indexing to PRIVATE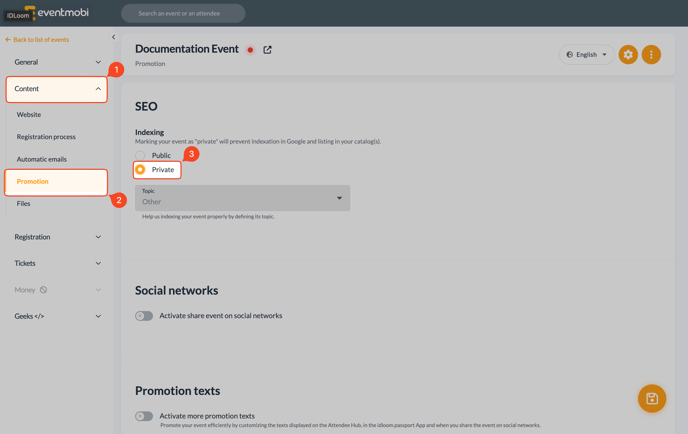 When you are ready to launch your registration and have read our Checklist, you can follow the next steps:
Open the ESSENTIAL settings under the GENERAL area
Click on the cog icon on the top right of the page
Click on PUBLISH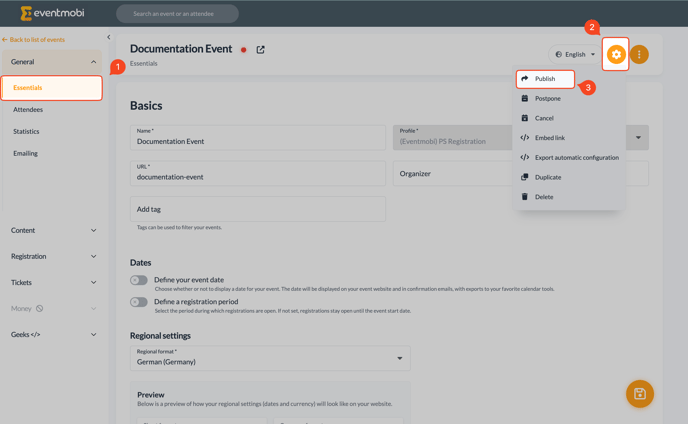 Once this is live, the red dot beside the name will change to green.

Tips & tricks:
Make sure to provide your attendees with the accurate URL. Please note that the URL in the preview mode will be modified once your registration goes live. To ensure you're sharing the correct URL, follow these steps:

Click on the icon adjacent to the event's name. This action will open a new tab, where you can easily obtain the accurate URL for your registration.

Here is an example of the preview link for the registration from the screenshot:

https://reg.eventmobi.com/documentation-event?preview=64788f640c01e

Once it's set to live, it will automatically switch to:

https://reg.eventmobi.com/documentation-event