Articles about the Event App
Can I use push notifications with my Multi-Event App (MEA)?
Push Notifications are available to iOS and Android device users that have downloaded the EventMobi app or your Native App to access your Event Space.
If users have allowed push notifications for the EventMobi app or Native App, they will automatically be subscribed to an event's notifications when they launch the app from the event listing.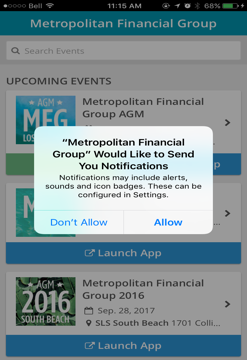 Am I subscribed to notifications for all events?
No, you will only be subscribed to notifications for the events you most recently launched in the MEA.

Will users get notifications for events they do not have the passcode for?
If secure mode is enabled for an event, users will only be subscribed to notifications after successfully providing the passcode and accessing the event app.

Can I send a push notification to users of the MEA, outside an event context?
Push notifications can only be sent per event, and not to the MEA at this time.