When activating your event in the Experience Manager, you will have the option to start from a new empty event or to duplicate a previous event. The Duplicate option will allow you to carry over any branding and customization you had applied to a previous event, along with some of the key structure that you have established to your libraries and sections.
What content can I copy over with the event duplication?
The event duplication is focused on helping you to establish the structure and branding for your event app, rather than transferring content that is subject to change with your new event. When duplicating a previous event, the following information will be transferred to the event you are activating:
Event Icon, Home Page widgets and layout
Designer Pages created in the Page Designer
Event Design Studio (Branding & colours, Loading & Menu Image and Advanced Designer updates that were made if applicable)
Event Space Sections
Session Tracks, Roles and Settings
People Groups and Custom Fields
Company Groups, Custom Fields and Company Grouping Label (Settings)
Document Groups
Event Information section (Help Desk and About pages)
The Event Details and contents of your libraries such as sessions, and profiles will not be transferred over during the app duplication process as these are typically items that are specific only to your previous event. For this reason, you will also notice that while Folder sections are duplicated in the Sections area, the content (pages and links) will not be. Additionally, Link section types will duplicate in the new event that you create but will not include any content for URLs that were set to link to eventmobi.com to ensure that your new event will not redirect attendees to an outdated event.
How do I duplicate a previous event?
After clicking on the "Add Event" option in your organization and selecting the credit for your upcoming event, you will find an option for content that will offer you the choice of Blank (starting with an empty event) or Duplicate Previous Event.
After selecting the Duplicate Previous Event option, you will find a drop-down menu where you can type in the name of any event in your organization that you would like to search for and select.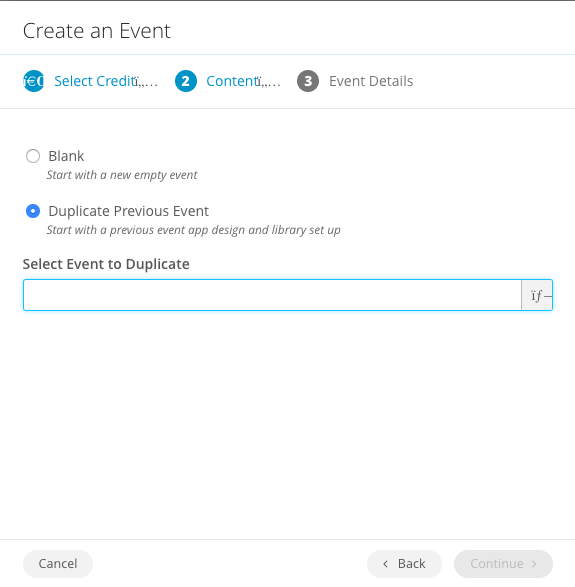 After selecting Continue, you will have the opportunity to activate your new event with a new Event Name, Event Dates and Event Code.
Can I Replicate The Sessions, Companies, And People Profiles From My Previous Event?
Using the Import/Export function at the top right of your People, Speakers, Sessions, or Companies libraries, you can download a spreadsheet that contains all the data associated with these sections. Then, in your new event, you can use the Import/Export function in each section to import it into your new libraries.
What if I accidentally activated a Blank event, can I still duplicate my event?
Event Duplication can only be completed at the time that you activate your event. If you have activated a blank event in error, please contact Support, and we would be happy to assist you!
Important: Please avoid duplicating events older than 2 years. Otherwise, this can cause errors with current features in the system.
It's always a good idea, to test all features in your Experience Manager (backend) and Event Space (frontend) right after duplicating to rule out any potential errors.