EventMobi Event Apps have the option to view the daily agenda in the standard list view or in Table View.
Users can visualize their daily agenda by either track or location and each column is color coded, making it easier for them to view concurrent sessions and manage session conflicts. Once the user has added a session to their schedule, it will display in a richer version of the track color and a check mark appears in the top left corner. Sessions that delegates can attend but haven't yet added to their personal schedule can still be viewed, but are dimmed.
You can scroll vertically through time to view all the sessions in one track or location, and horizontally to navigate through different tracks within a particular time block. This ultimately helps to visualize what's available for that day at-a-glance and easily manage session conflicts.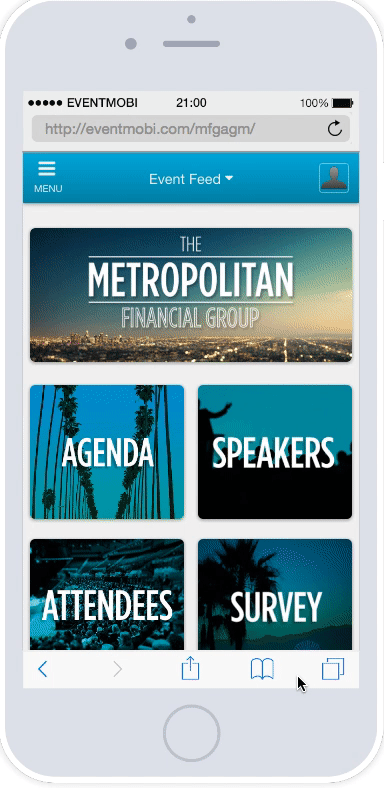 The Perfect Day Planner
The customizability of EventMobi's Agenda section with the new Table View option also includes a new header that has a date drop-down menu, a filter button and a toggle button to switch between an Agenda List View and the Table View.
Based on the filter chosen, users can view the agenda by tracks or locations. The location filter can be particularly helpful if your event is held in a venue (or venues) where distances between rooms can be a bit of a hike, and sessions in one track are located in the same area. Table View can help those who are looking to attend sessions that are nearby by giving the user visibility into what sessions are happening.