Within the Event Space, you will have the option to view the daily agenda in the standard List View or in Table View.
Users can visualize their daily agenda by colour coded tracks, making it easier for them to view concurrent sessions and manage session conflicts. Once the user has added a session to their schedule, it will display in a richer version of the track colour. Sessions that delegates can attend but haven't yet added to their personal schedule can still be viewed, but are dimmed.
You can scroll vertically through time to view all the sessions belonging to a track, and horizontally to navigate through different tracks within a particular time block. This ultimately helps to visualize what's available for that day at-a-glance and easily manage session conflicts.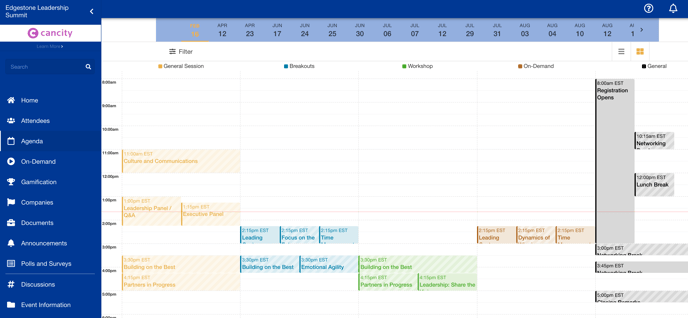 Attendees can define what content will display within the Agenda using the dates listed at the top of the page and/or the Filter option to select specific Tracks. Attendees will also have the option of adjusting the view type using the List View and Table View icons at the top right.
Can The Table View Be Turned Off?
Within the Settings are of the Experience Manager, you will find an option to set the 'Available agenda section views'. Depending on your preference, you can set the Agenda to be made available to attendees as List view or List and Table view.