Groups
Groups, which are established in the People library, allow you to send targeted announcements to specific people. They do not show up on the app at all; users can't tell what groups they or others belong to. Also, it's important to note that you cannot send accompanying push notifications to targeted groups.
Adding Groups In The Experience Manager
If you plan on creating your profiles using the Experience Manager, it's a good idea to create any Groups that may apply first so that they are available for assignment. This will save you a step in the long run; otherwise, you'll have to go back and add your people profiles to their groups instead of adding and assigning them in one fell swoop.
Access the People library within Experience, and select the Groups tab.
Click on the option to Add People Group
Enter in the name of your group and confirm to save this change.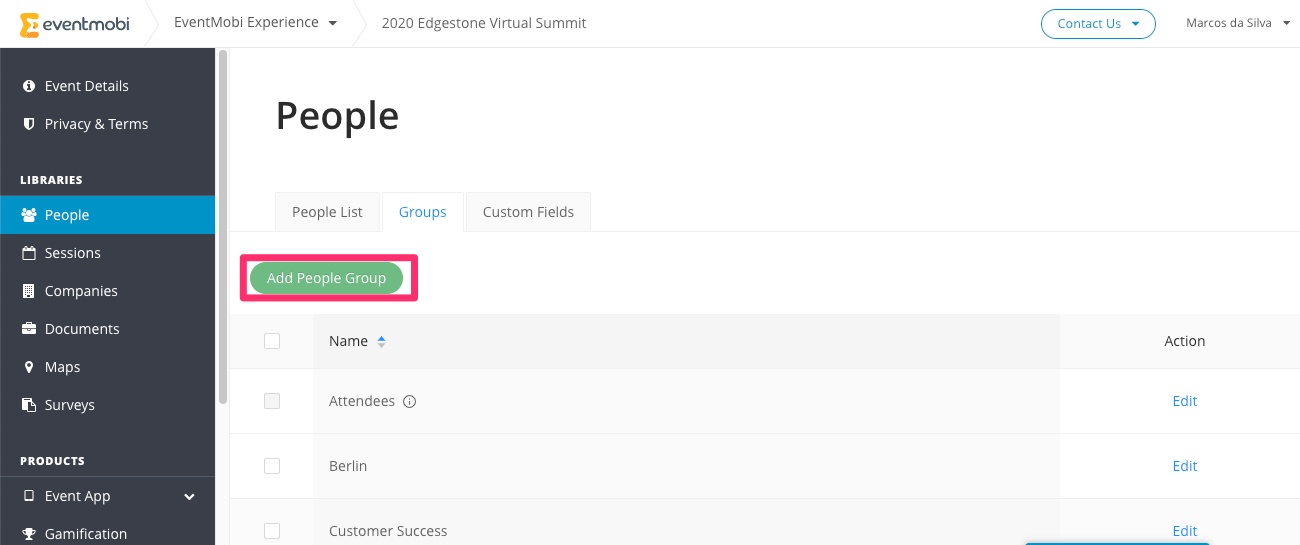 Creating and Linking Groups In Excel
Creating and Linking Groups In Excel
1. Download the People Excel template (select Export if you would like to download the content you have already saved).

2. Enter the name of an existing group you would like to assign your profile to (it does not need to be case sensitive), or a new group that you would like to create upon import. When multiple groups are needed, separate each group name using a comma


Displaying Groups
Although groups themselves are not meant to be displayed in the app, you will have the option of determine which people profiles to display within your people sections based on the groups that you have created.
Click on Event App listed under Products in Experience to access the Sections area
Select the section you will be using to display your people profiles, and choose the Specific People Groups option
Select the relevant people groups to display from the People Groups to Show dropdown menu
Choose the Save Section button to apply this change