The self-edit link is a great way to help your attendees to fill in their profiles before your event. By sending the self edit link your attendees, speakers, and anyone else found in the People Library will receive a link that allows them to add a bio, edit their company and title, add contact information, as well as upload a photo, as well as upload documents or adding external links to their profile. Similarly, a self edit-link can be sent to Company representatives as well.
To send a self-edit link, click the Send Self Edit button at the top of the People or Company library page, which will bring up the Self Edit window.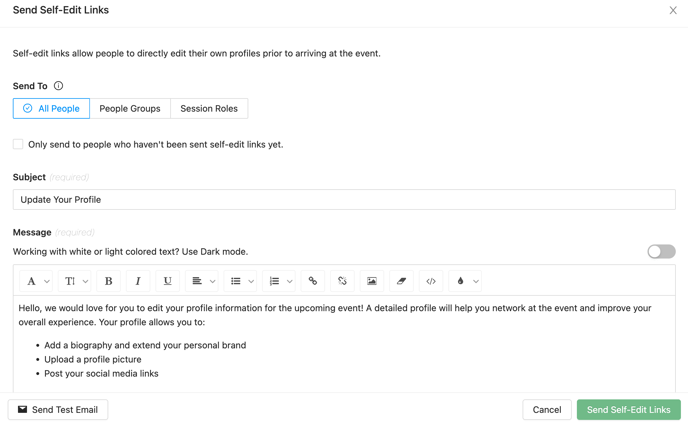 The first step is to decide how to send the link. In the case of People, you will send to either All People, Specific People Groups, or Specific Session Roles. You can also select the option to only send to people who haven't been sent a self edit link before.
Once you have selected who you will send to, you will then add a Subject and Message. The message should give people an idea of what they should do and why you are asking them to do it. You can use the default subject and message, or you can use or build on the sample message we provide here.
Once done, you can either send the email by clicking the Send Self-Edit Links button, or you can test the email by clicking Send Test Email (It should be noted that the send test email is intended for you to test how the email looks, and the link to fill out the form will not work).
The only difference between sending the People Self-Edit link and the Company, are the options for who to send to. In the case of the Company self-edit link, you can choose whether to send to All Company Contacts or company groups.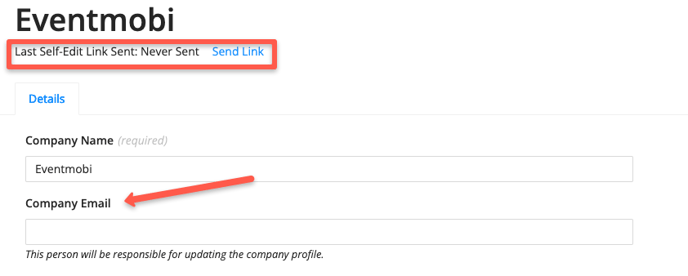 Note: When the Lead Capture Portal is in use, the self edit link will be sent via the people process outlined above.
When a Self-Edit Link email is received, after the Message, an Edit Your Profile Button is seen which will take the recipient to the self edit page. The recipient will then:
Open the email and click the link provided.
Select the Personal Information option to update their profile details.
When they are finished, click Save Profile at the bottom.
Access the Documents option (if applicable) to attach resources directly to their profile.
Choose the External Links option if you would like to include additional URLs in their profile.