How do I choose good keywords for my Custom Branded App?
The App Stores give you up to 100 characters to define your keywords, so here is how you can make the most of them!
Relevance is one of the most important factors in selecting the correct keyword for your App. The Keywords you select have to be highly relevant to the topic of your Event. Keywords that are specific to your event will help drive more attendees in finding and downloading your Event App in the App Stores.
For example if you are hosting a conference for the home security industry, some of the Keywords that might come to mind at first may include the following: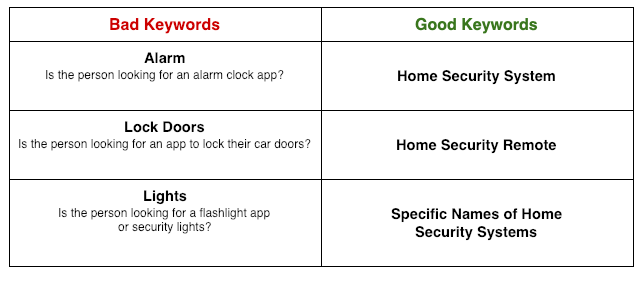 The above keywords on the left are not ideal because they are too vague and your Event App may be the 500th App in the list. Better keywords in this example are more specific and relevant to your event, and make it more likely that your App is among the first results that your attendees see.
Some other common keywords to avoid using when you are ready to submit your App for Native submission to EventMobi include:
Conference
Event
Event App
Meeting
Leadership
These are too generic and will not help attendees find your App in the App Stores due to the mass volume of Apps that have those keywords in common.