Appointment Booking offers attendees the opportunity to book 1-on-1 meetings with each other directly from the event app, making networking opportunities easy to coordinate and manage. We've integrated this option into our existing chat feature to make sending and responding to appointment requests an intuitive experience for app users.
A few use cases where appointment booking can help people to connect at your event:
Sellers and buyers
Recruiters and talent
Professionals seeking peer-to-peer knowledge
Investors and investment opportunities
Business partnerships
Professors and students
Executives and employees
Product managers and product users

How does Appointment Booking work?
Create an appointment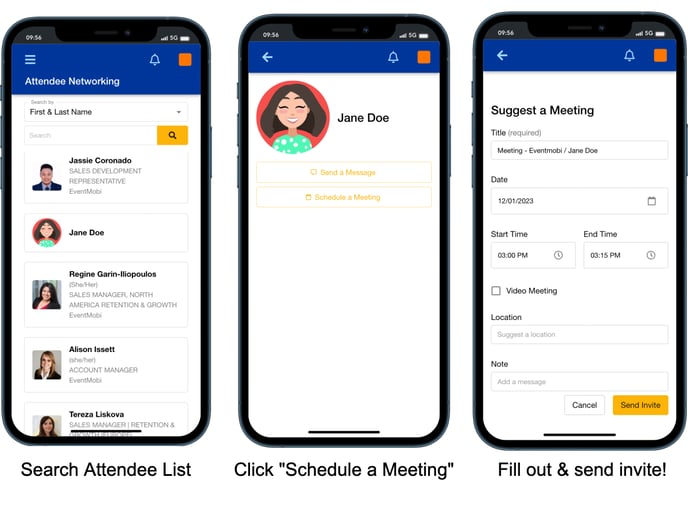 Appointments can be scheduled 1-on-1 between any People profiles on the app if you have opted to include this as part of your event package. Each profile from your People library that is displayed on the app will include an option to "Suggest a Meeting" where app users can send a meeting request. When creating this request, app users will be asked for the following information:
Meeting Title
Date and Time
Suggested meeting location
Any additional notes
Accept an appointment

Once an appointment request has been sent, an email notification will prompt the invitee to access the app and accept or decline the invitation that was sent. Email notifications will also be sent to indicate when an appointment has been accepted, declined or canceled.
Attendees accessing your event information from a custom branded app or the EventMobi Universal app will also receive a push notification to their device once an appointment invitation is sent.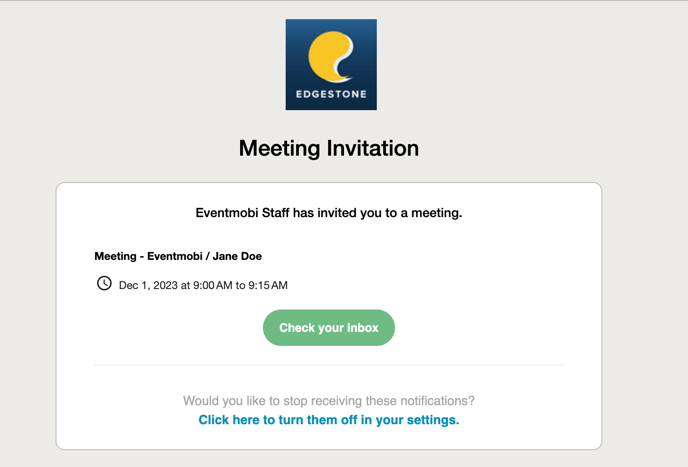 View your appointment

Attendees can view any pending or scheduled appointments from their personal agendas in the Attendee Dashboard area (right-hand menu) of the app.
When reviewing their scheduled appointments, attendees will also have the option to cancel the meeting if needed. It is important to note that appointments cannot be edited after they have been scheduled, and will instead need to be canceled. A new appointment request will then need to be created to include the updated information for the date, time or location change.

Opt-out of appointments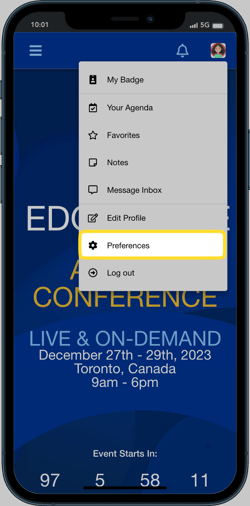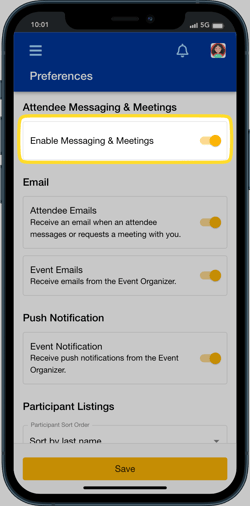 Attendees who would prefer not to receive appointment requests can opt-out of these invitations directly from the "Preferences" area of the Attendee Dashboard by adjusting the toggle option for "Enable Messaging & Meetings".
Please note that this will also disable the attendee chat feature within the app.
Can Attendees still use Appointment Booking if we have disabled chat?
Since the Appointment Booking feature works seamlessly with our attendee chat option, disabling messaging between attendees will also disable the option for them to schedule 1-on-1 appointments within the app.
Will Attendees receive a notification about scheduling conflicts?
Attendees will have access to book as many appointments as they like, and at whatever times they like. For this reason, the Appointment Booking feature will not notify the user when there is a conflict in schedule related to other sessions or appointments that have been booked for that same date and time. Attendees will, however, see scheduled appointments within their personal schedules alongside any other sessions or appointments for better visibility into what is upcoming.