Live streaming is dependent on a lot of moving pieces to operate successfully and we will assist you in ways that you can efficiently correct any unexpected outages or interrupts to your live stream.
Establishing a Backup Strategy
Live Stream Back Up
When establishing a backup stream, most options will utilize the RTMP stream key or Video URL to embed your video stream into the Virtual Space. This will allow your attendees to stay within your Virtual Space and grant them access to additional engagement features such as live polls, chat, and Q&A.
In the event that the platform you are linked to (by RTMP key) is experiencing issues or interruptions, you can provide the same live stream experience to your attendees by utilizing the Video URL to connect your live stream with one of the supported streaming platforms below.
Establishing a backup stream using our Video URL option will ensure a quick and efficient way to switch your video output to your backup. Below are supported solutions to stream via video url:
It is important to note that some of these platforms may require a paid package in order to host or stream your video content. If you would like a comprehensive description on the difference between Youtube and Vimeo streaming, please see our FAQ article by going here.
Pre-recorded content
Planning pre-recorded content to play during an outage will ensure that your attendees still have content available and will provide additional time to correct the situation and/or to transition your speakers to a new platform.
You can get creative with the content you share during this time, but common videos that can be played here would be a message from the chair, sponsorship videos, or event promotional videos. The recorded content should be hosted on a video hosting platform (i.e. Vimeo or Youtube) so you can easily grab the Video URL to then embed it into the session.
Live Stream Interruption Strategy
If your livestream happens to experience disruptions, it is important to have a strategy in place to notify your attendees of the issue, direct them to your backup content, and to transition your speakers to the new platform so that you can continue with your presentation.
Step 1: Notifying your Attendees
When a stream is interrupted, attendees will first consider that they're the only ones affected by the interruptions and will often look to correct it on their side. Notifying them of the current situation will ensure they don't navigate away from the session or try to refresh the page to self-correct the issue.
The Virtual Space offers many different ways to notify attendees in real time of any interruptions that have stopped your live stream. Using the Session Chat feature, you can speak to your attendees directly to notify them of the interruption and that you're working on correcting the issue. Additionally, if you feel that some people may have already left the session, you can use an Announcement via email to advise all attendees of the current situation and the resolution plan.
Step 2. Direct your attendees to the new content or activity
Keeping your attendees from leaving your virtual space is vital for any event, and having a plan on how to communicate and direct your attendees to the backup stream, pre-recorded content, or activity will help to ensure that you will not lose engagement.
Create a Backup Live Stream:
To generate a new Live Stream for your attendees to access, you will need to create a new Session in the Experience Manager. The reason you have to generate a new session is because the live stream that you are currently linked to may still register as active on the provider and will not allow you to edit and change the RTMP key.
Once you have a new session, you can then generate a new RTMP key from the Custom URL area that will need to be added to your livestream platform.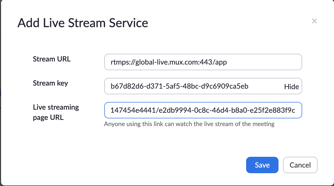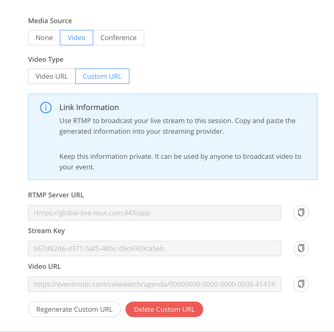 Direct Attendees into a Zoom/Google Hangout Meeting:
After Generating a new Session you can have your attendees join a Zoom meeting directly using a Conference URL. This option offers a great way to quickly resolve any streaming interruptions and bring everyone together, depending on the type of session that is taking place.
This will change the way that the session is formatted by adding a call to action button that your attendees can click to join your Zoom/Google hangout meeting.
It is important to note that this option will change the overall experience of the session as it allows a two way interaction between attendees and the speaker, rather than delivering a one way stream of video content. The platform you are working with may also limited in the number of attendees that it supports, or how long the session can take place (i.e. free Zoom meetings). Should you make this option part of your backup plan, please be sure to do your research on which platform and package type would be most suitable, before the event.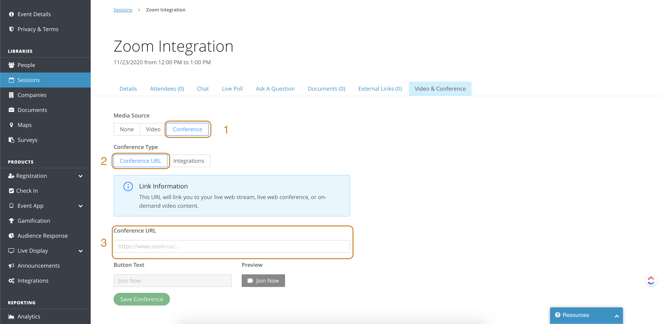 3. Send an Announcement to Attendees to Guide them to a New Session:
Now that you have set up your backup solution, you will want to provide an easy way for your attendees to be directed to the new session. Using the Announcements feature, you can send create a notification that will provide the direct URL to either your session or the conference meeting itself.
Announcements can be send it out to everyone (All People) or a specific group, depending on who should be in the session. Make sure to use the subject to quickly grab the attendee's attention and the message field to include the direct link. Once the announcement has been sent, your attendees will get an immediate notification on their screen to select the link to the session.