EventMobi's Page Designer makes it easy to create a dynamic Home Page that you can use to showcase event information, promotional material, marketing collateral, and even sponsorship at any stage of your event's development.
If you would like to begin promoting your Event Space to attendees before it is fully completed, you will just want to make sure that you are hiding any sections and/or information that is not yet ready to viewed. You may also want to consider creating a special Designer Page that is focused on notifying attendees that more information is 'Coming Soon' by incorporating image widgets and/or a countdown.
How To Change Your Home Page
Visit the Home Page area of the Event Space product in the Experience Manager
Select the Designer Page that you would like to use from the dropdown menu
Save your changes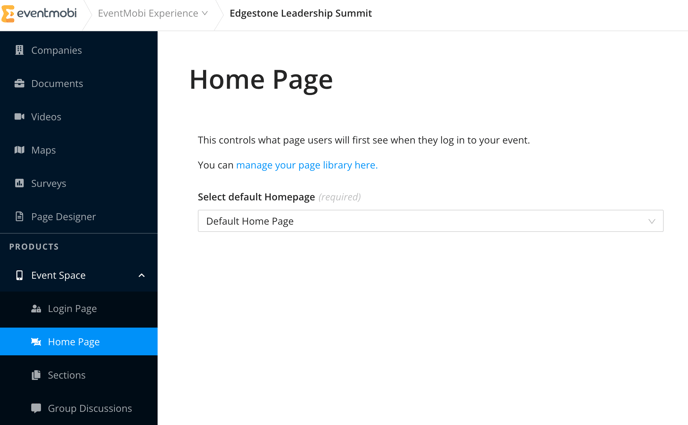 Note: The Designer Page will need to be created in the Page Designer before completing these steps.

Because any of your sections can be hidden at any time, you can selectively reveal parts of the app as you complete them, or keep everything hidden until you're ready for a big reveal.
How To Hide and Show Event Space Sections
Visit the Sections area of the Event Space product in the Experience Manager
Select Edit on any section that you would like to hide or show within the Event Space menu
Select or deselect the Hide section checkbox as needed