While videos and livestreams work well for delivering content one way, some sessions may require other video tools or options to allow participation and collaboration from the audience. If you are looking to host an interactive session using a virtual conference or meeting link, then it is important to note that attendees will be directed outside of the Event Space to join the platform you are using for the session.
Your Event Space, however, can make the process of directing attendees to the external conference or meeting link easy and intuitive by offering a button that can be accessed from the session details page.

How to link to your Conference or Meeting
Select the session that you would like to update from the Sessions Library of your Experience Manager.
Choose the Video Experience tab available at the top of the session page.
Select Video Conference as the Experience Type.
Input the Conference URL to your session.
Adjust the Button Text as needed.
Update the Pre-State and Post-State settings needed.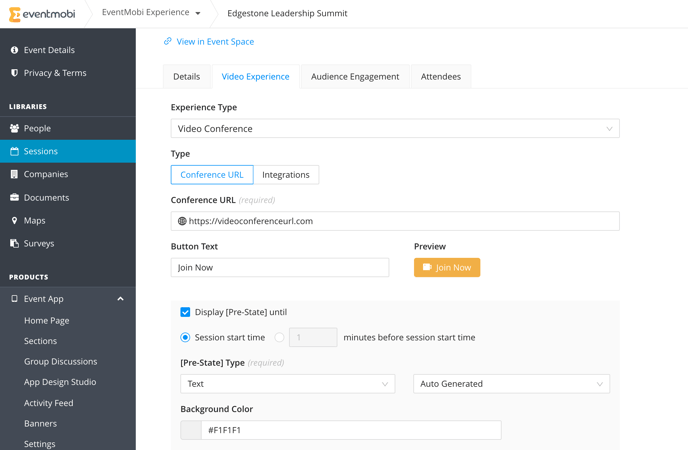 Can I offer a conference link if I have embedded a video into the session?
Space that would typically be used to showcase a button to your conference link will actually be dedicated to the video that you have embedded into the session - for this reason, you will notice that the Video Experience area will only allow a single option to be selected at a time.
If your session will incorporate both video and meeting elements, then we recommend embedding the video portion so that you can offer the best experience to your attendees. The conference or meeting link can instead be made available using either a hyperlink within the session details, or the External Link feature.