How People Get To Your Event Space
Your EventMobi Event Space can be accessed on any current internet browser, and on the EventMobi Universal App via a Smart Launch page specific to your event.
Browsers
When accessing the Event Space from a browser, attendees will enter your event's unique URL. Event Space URLs usually follow this format: eventmobi.com/EventCode (where "eventmobi.com" is the domain and the Event Code is the part of your app's URL that distinguishes your event from others).
Your Event Code is set when you first activate your event, and we recommend that you keep it simple and easy for attendees to enter. If you need to change your Event Code after it has been saved, simply contact Support to let us know what you would like to change it to.
EventMobi Universal App
Your event can be accessed on iOS and Android devices by downloading the EventMobi app from each respective app store. Using the Smart Launch page URL for your event, which will follow the format eventmobi.com/app/eventcode. Once the app has been downloaded to the device, your event information will automatically launch for the user.
Updating the Event Code of your event app URL, will automatically update the URL for your event's Smart Launch page URL.
Custom Branded Apps and Event Pages
If a Custom Branded App or Custom Branded Event Page is included as part of your app package, then users will have access to download your event information directly from the Apple App Store, or Google Play through an app listing under your developer account. This is done using a file that our Native Release Specialist has created and provided to your team.
Updating the Event Code of your event app URL will impact users' ability to access your information once they have downloaded the app from the store. If a change to the Event Code is necessary then a resubmission to the app store will be required.
CUSTOM DOMAINS
If branding is a high priority for your event, you can purchase the White Label add-on. This allows you to remove the prominent EventMobi branding within the app including the Powered By EventMobi logo at the bottom of the menu.
If you want to use a custom domain and have purchased the White Label add-on, all you have to do is purchase the domain and configure it to point to EventMobi. Once you've configured your domain, you will need to add it to the Custom Domain tab found under the Settings area of your Experience Manager. This will notify our team that the domain is ready and is a required step for us to update the security certificate.
Without letting us update the security certificate, accessing an event with a custom domain will trigger a browser warning.
Note: It takes 3-5 business days on average for us to update the security certificate. Please account for this with your request to our Support team.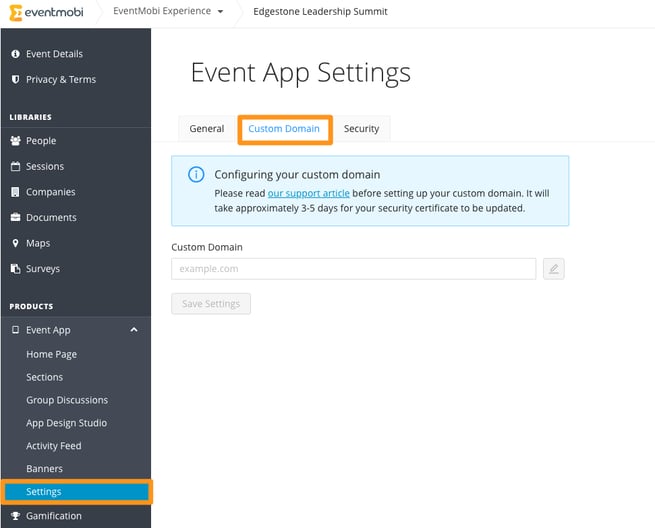 How To Configure Your Custom Domain
Assuming you registered event.com, then event.com is the base domain and mobile.event.com, m.event.com or www.event.com are all sub-domains.
To use your custom domain, you will need to go to your domain host to point the domain to Eventmobi using the steps below.
We recommend using the option below marked B for your domain. For your base domain, set it up as www.event.com, so the CNAME record would be set up to point www to domains.eventmobi.com.

A. Setting up a base domain to point to eventmobi.com
1. Select the URL you wish to use: eg. http://event.com
2. Add an entry to the zone file for event.com as follows:
@ A 107.22.246.94

B. Setting up a sub@domain to point to eventmobi.com
1. Select the URL you wish to use: eg. http://mobile.event.com
2. Add an entry to the zone file for event.com as:
mobile CNAME domains.eventmobi.com

Smart Launch Pages
If you are planning on using the Smart Launch page assigned to your event, it is important to note that it cannot be assigned a custom domain. Users will need to access the URL eventmobi.com/app/eventcode in order to access the EventMobi app which cannot be customized to your specific branding.
Our Custom Native App option is available should you wish to make your native app accessible within the Apple App and Google Play stores, and can be promoted to your attendees via the specific URL to the app store listings.