How Do Attendees Submit Account Deletion Requests?
Attendees will have an option to send an account deletion request, when needed. from the Preferences area of the Attendee Dashboard in the Event Space.

Attendees will be asked to type in the word DELETE to proceed with submitting the deletion request. They will also be prompted with a confirmation message before the request can be sent.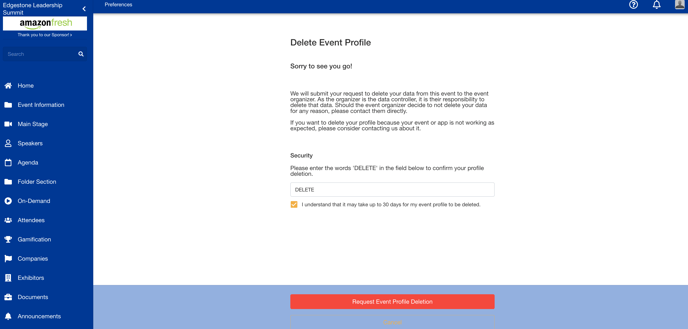 Once the attendee has confirmed that they would like to submit the request, a green notification should display to advise them that the request was sent successfully. Requests that were not sent will be indicated with a red notification.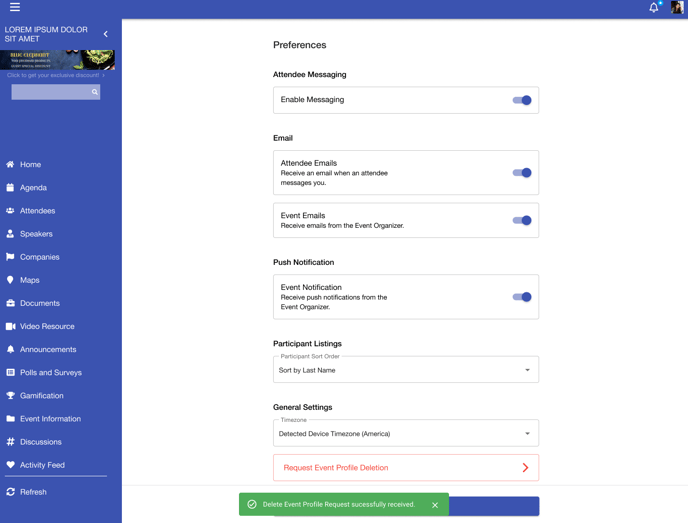 How Are Account Deletion Requests Processed?
Account deletion requests must be actioned by the data controller / owner, to follow privacy and security requirements. Organizations are the owners of all data that they add to the Experience Manager, meaning that all attendee deletion requests will need to be handled directly by the organization.
Once an attendee has submitted an account deletion request, an email notification will be sent to the organizers listed within the organization. This email will include the following details:
Attendee Name
Event Name
Date that request will need to be completed by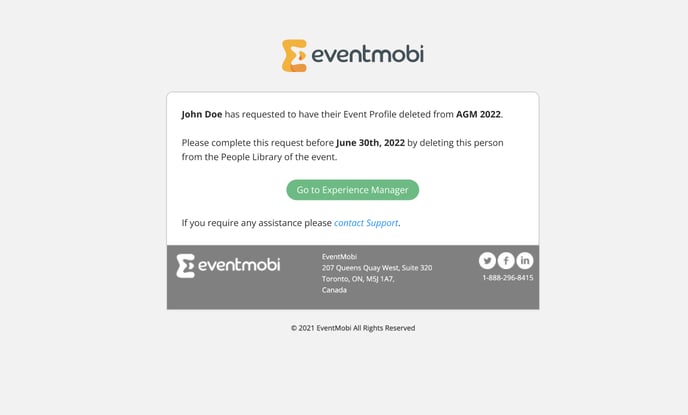 Account deletion requests will need to be processed in the People library of the Experience Manager. Deleting the People profile will also act in deleting the following items related to the attendee:
Posts made to the Activity Feed
Comments made within the Event Space
Messages
Uploads
Once a profile has been deleted from the Event Space it cannot be restored. A confirmation message will appear before the deletion is processed in Experience.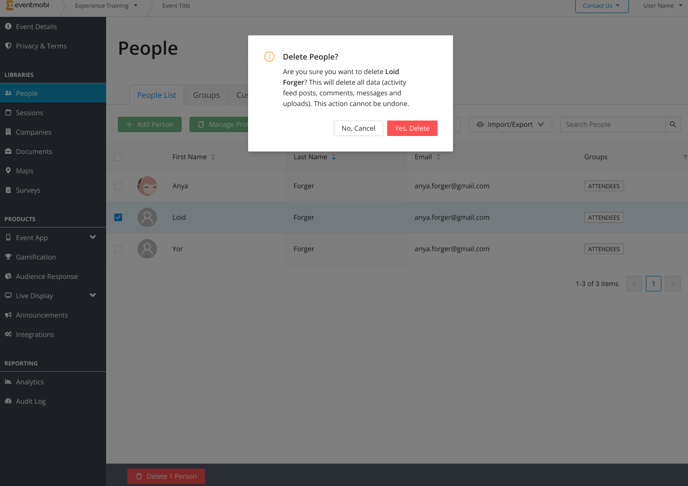 Note: Data for analytics will not be deleted, but it will be anonymized once the People profile is deleted.
Do We Need to Comply with Account Deletion Requests?
Account deletion requests must be completed in order to comply with Apple's regulations related to privacy of data. It may also be required under GDPR or similar legislations. If you are unsure, consult your legal counsel. Failure to action data deletion request may result in your Event Space being removed from publication.

Can EventMobi process the account deletion request on our behalf?
The organization delivering the event is considered the data controller / owner of any data that has been added to the Experience Manager - this applies to any data that the organization has added themselves and any data that has been added by EventMobi as part of a Full Service offering.
As the data controller / owner, your organization will be responsible for manually actioning the account deletion requests that are submitted by event attendees. EventMobi does not have the authority or legal permissions to process account deletion requests on your behalf.
Will Attendee Accounts Be Deleted For All Events?
Account deletion requests apply only to the events that they are requested for. This means that attendees will still be able to log into other EventMobi events using the same username and password information, additionally their personal information may still appear in any events that a deletion request was not submitted from.