EventMobi
EventMobi apps can be accessed on any mainstream internet browser and, depending on your package, from the Apple App Store and Google Play. While you do need a connection to access the app in the first place, you can use it thereafter without a connection.

Native App
Having downloaded the app from your device's app store, you will be able to use the app seamlessly thereafter, even without an internet connection. To minimize the download time and the bandwidth required for your attendees, all your uploaded images and attached documents will remain on our servers and will not appear offline. Otherwise, all the app's functionalities will remain the same.
Our native apps are available for mobile devices running the latest market-dominating operating systems:
iOS 10 and higher
Android 5.0 and higher

Offline In Your Internet Browser
Your app's offline capability activates automatically when you first access your app on your device. Your mobile device will store the app within your browsing memory (cache) and the app will draw from this stored information thereafter, eliminating your need for connectivity.​

Compatibility
Our offline-capable event app works seamlessly on newer mobile devices:
- iOS 10 and later
- Android 5.0 and later

They will also work on all mainstream desktop browsers:
- Chrome 14 and later
- Safari 5.1 and later
- Firefox 6 and later

However, you will not be able to download the icon to your desktop and will need to leave the app open to access it offline.

Mobile devices older than 3 years are less predictable. All devices will require connectivity for the initial download of the app.

Updates
You will need to be connected to receive updates and changes, including push notifications, and the app will tell you when your last update was. Also, while EventMobi sends updates to your mobile device automatically, there are some changes that will require you to refresh your app before they become apparent on your device.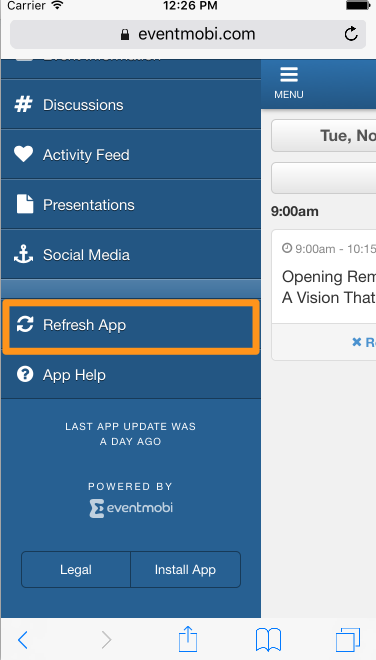 Some will even require that you clear your browsing cache, and you can find a complete list of these changes in this article of the FAQs.

Limitations
While you can view all the app content offline, there are some interactive functions that require connectivity. These are
Receiving updates

Sending yourself notes

Adding or editing your user profile

Uploading images

Viewing attached resource documents

Participating in polls, surveys, and session feedback, and displaying the results live

Getting announcements