New modern look to our sessions and how you can upload and filter information
Starting September 22nd, we will be implementing an update to our Sessions that will modernize and improve how you set up your session, filter options, and the user experience!
This update will make it easier than ever to create your agenda and greatly improve the look of your sessions.
This update will not impact events with dates between September - October and won't be activated for Community Events.
Why Are You Updating The Session?
Over the past year, we've received great feedback from both event organizers and attendees, and have designed this update to improve the user experience and offer new functionalities.
Where Can I See The Changes?
You will see the new improvements in three key areas within your sessions. Some of these changes will be very easy for you to identify, while others are very subtle. Below is a list of the main areas where you will see updates:
---
Session List in the Experience Manager
When you view your new Session List, the look and feel is the same but we have introduced some new quality of life changes to make filtering through your list even easier. The overall layout hasn't changed, but now you have more options at your finger tips that offer better visibility into your sessions' information.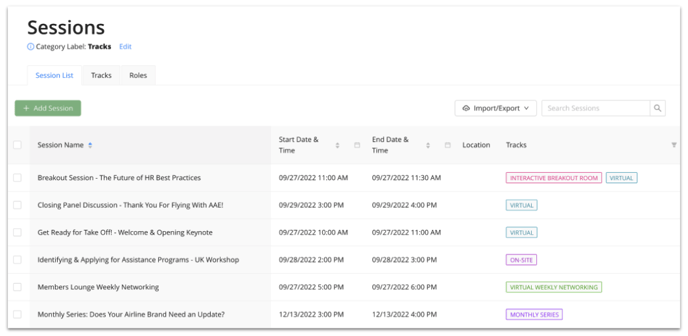 🆕 New Filter Options!
You no longer need to rely on the search function to find the exact session you need to edit. Multi-day events can now be filtered down to the day or you can select a specific date you have in mind and you will see all the sessions under that date.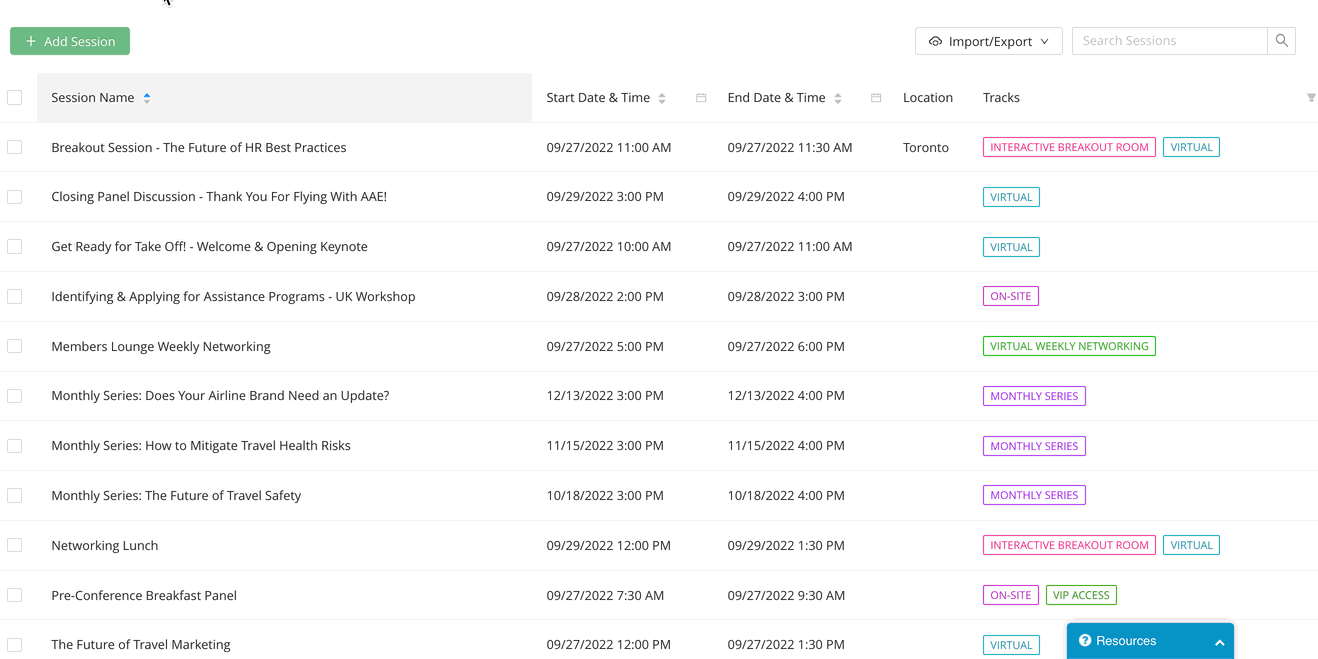 Session Builder in Experience Manager
Building out your sessions has always been very easy to do, but we've now consolidated many of the tabs and added more intuitive steps when adding resources or virtual elements to your sessions.
The details tab now holds all information about the session and supporting resources attendees can reference and download throughout the session. This can be in the form of presenter profiles, documents, external links, session details, location, and tracks.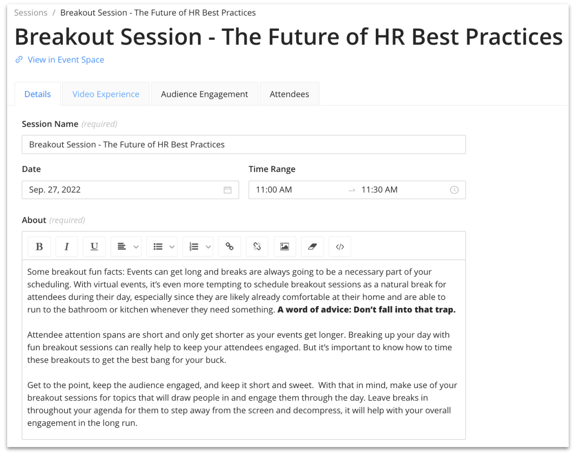 🆕 Video Experience
Choosing the right experience type for your session doesn't need to be difficult - and this update makes it a lot easier for you to choose the session experience you would like your attendees to have.
When selecting your experience, you will see a drop down of options to choose with a brief description to help you in choosing your experience type. Once selected, you will just need to complete the fields that are populated to easily create your experience.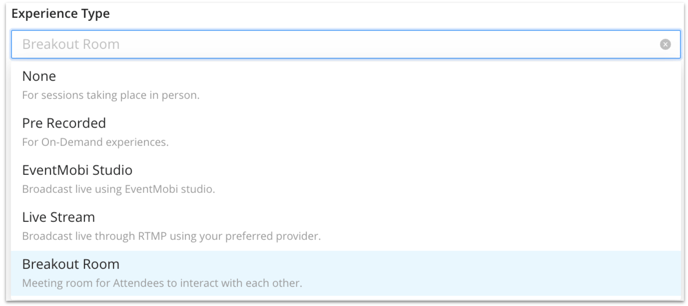 🆕 Audience Engagement
Previously, you would need to cycle through tabs to enable and disable the various engagement features available to you. We've now grouped all three tabs together into a single Audience Engagement tab! You now have a central hub within each session that gives you all the options you need to enable/disable features and access additional options.
All the features are controlled by toggles and can be easily turned on and off in real time.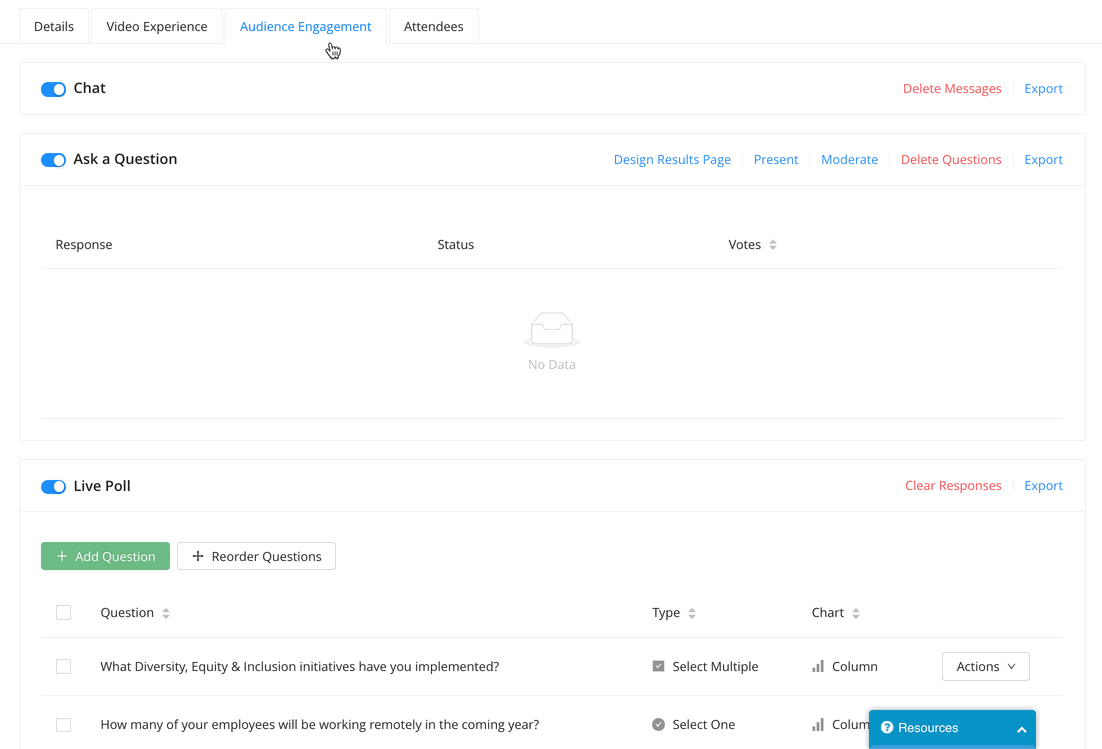 Session Page in Event Space
Attendees will see a new modern session page when viewing your session. You will notice that the session name, date, time, and tracks have been moved under the video feed to better align your audience engagement with the core content that is being watching.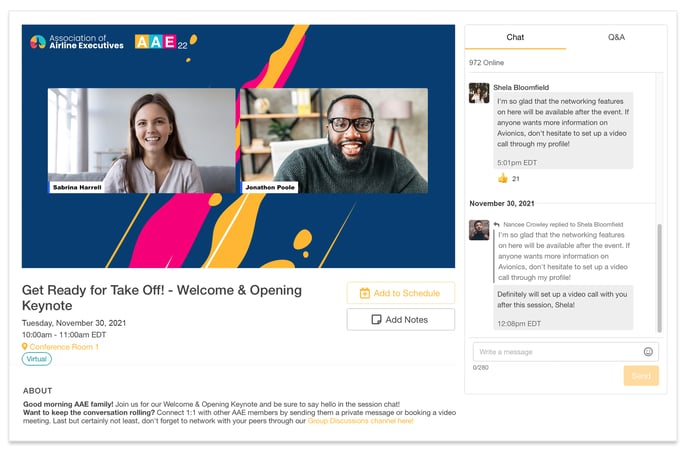 As you scroll down the page, you will find additional information that was entered into the details of the session. All of the resources are now easier to read with additional spacing between each item. This update will have a significant impact on readability when attendees scroll through all of the important resources attached to a session.