How Do I Get Tweets On My Live Display?
Your Live Display is set to display any tweets that have been made or retweeted by the Twitter handle that is entered into the Twitter Username field on the Social screen.
It is important to note that content will not display on this screen unless the Twitter username you have entered actively tweets or retweets content - this is designed to allow for better moderation of the content that is displayed and shared with your attendees.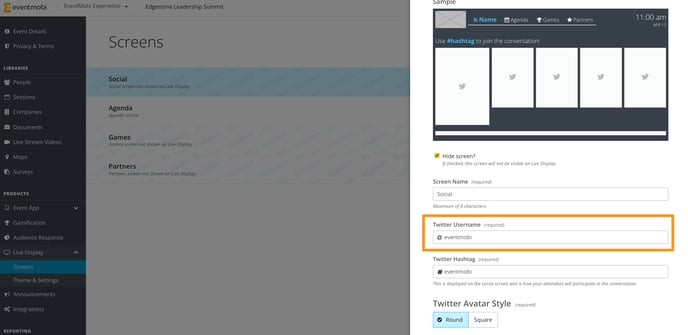 Why aren't tweets populating based on the Twitter Hashtag?
The Twitter Hashtag entered for your Social screen is used only for display purposes and is intended to promote the events specific hashtag so that attendees use it in the tweets they are posting. By using a hashtag, you can more easily see posts that have been made by attendees and retweet them to share them from the Social Screen of the Live Display.