Analytics
EventMobi analytics are available shortly after you create your event from the Analytics section under the Reporting area of Expereince. In this area, you can view App, Gamification and Sponsorship analytics in realtime and generate your own reports.
The date range you are working with can also be customized at the top of the page, to allow to view how adoption has increased over specific dates.

App Analytics
This set of analytics will provide you an overview of Adoption Rates, and the percentage for the Logged In Rate. In addition to this, you can view such things as App Usage Over Time, Platform Breakdown, as well as your Top Sections, Sessions, Documents, Companies and External Links - all of which can help you in gauging the success of your event, and help in planning future events.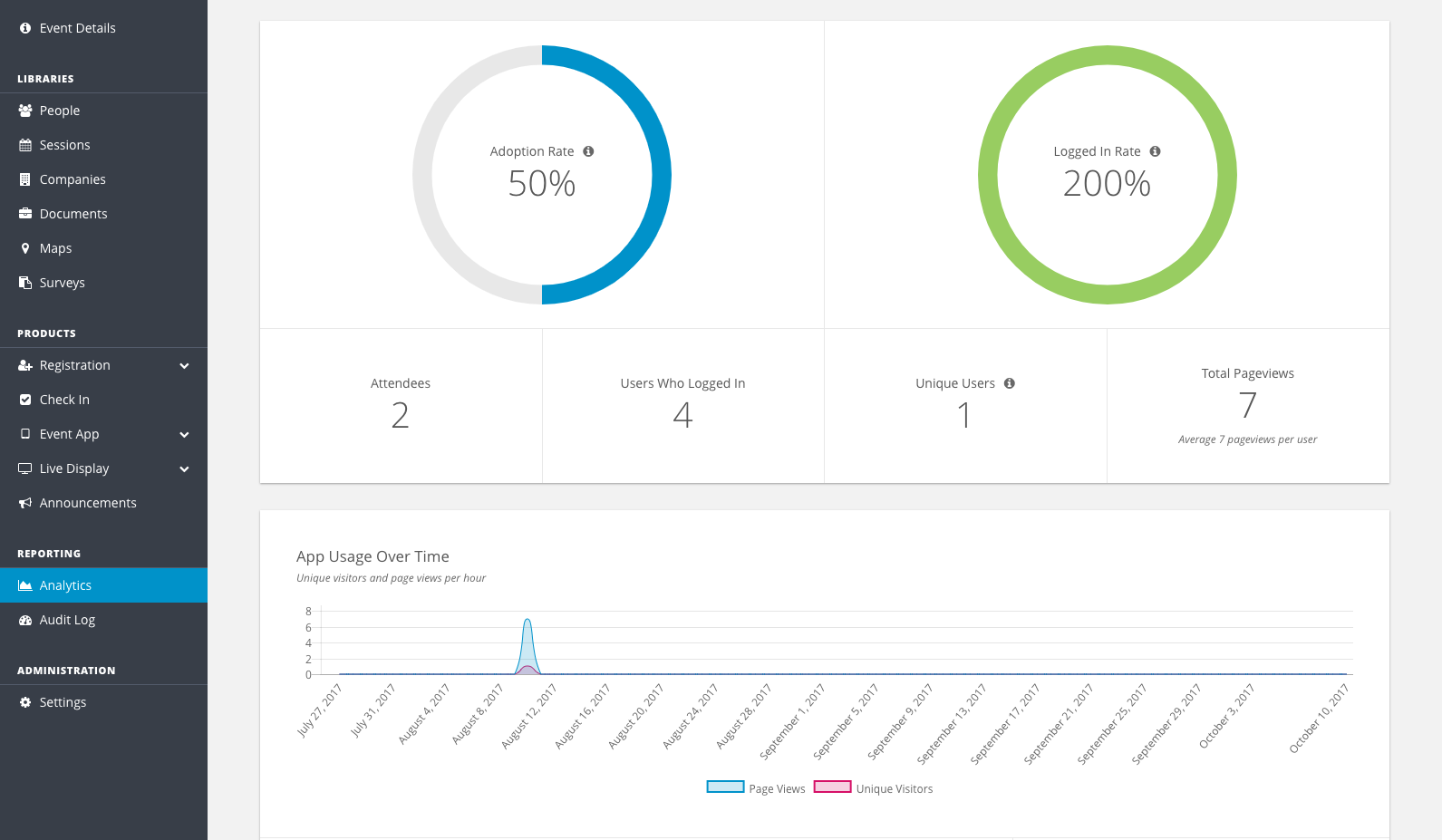 Gamification
This area of Analytics will only be accessible if you have purchased Gamification as part of your app package. Similar to the App analytics, we will have an overall view of Adoption Rate and Top Challenges and Players. In addition to this, we will see the number of Challenges, Players, Challenges Completed, and Total Points Collected.
From the top right hand corner you will also have the option to Generate Excel Report to see a further breakdown of your game challenges, and a chronological order.

Sponsorship
In this section of the Analytics area you will find a list of the Banner Ads you had established for your app, along with the corresponding number of Impressions, Total Clicks, and Conversion rates.
Banner ad analytics are broken down into impressions and clicks, which makes them great for demonstrating ROI at your event. An impression is any time at least 50% of a banner appeared on the screen while not in motion (i.e. while not scrolling past things).
A PDF report can also be generated using the green button located to the top right hand side of the page.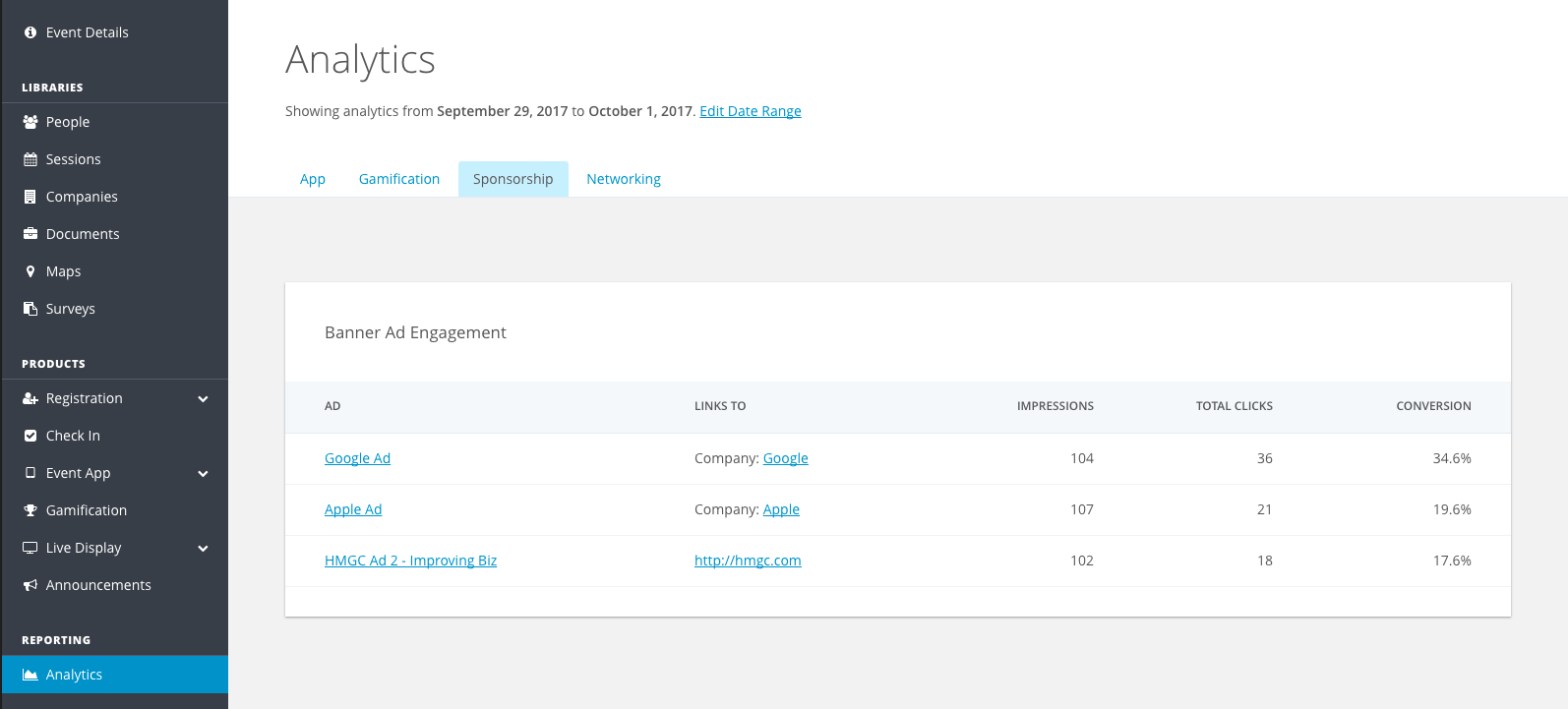 Networking
The Networking Analytics that are displayed will provide you an overview of how the Messaging, and Group Discussion features were leveraged in the app. A breakdown of the number of Messages Sent, Received, and Read will be provided for each participant.
You will also have access to view the overall Adoption Rate, Channels, Participants, and Messages Sent within your Discussion Groups. Finally, you will see a list of your Top Channels outlined with reference to the number of Participants and Messages.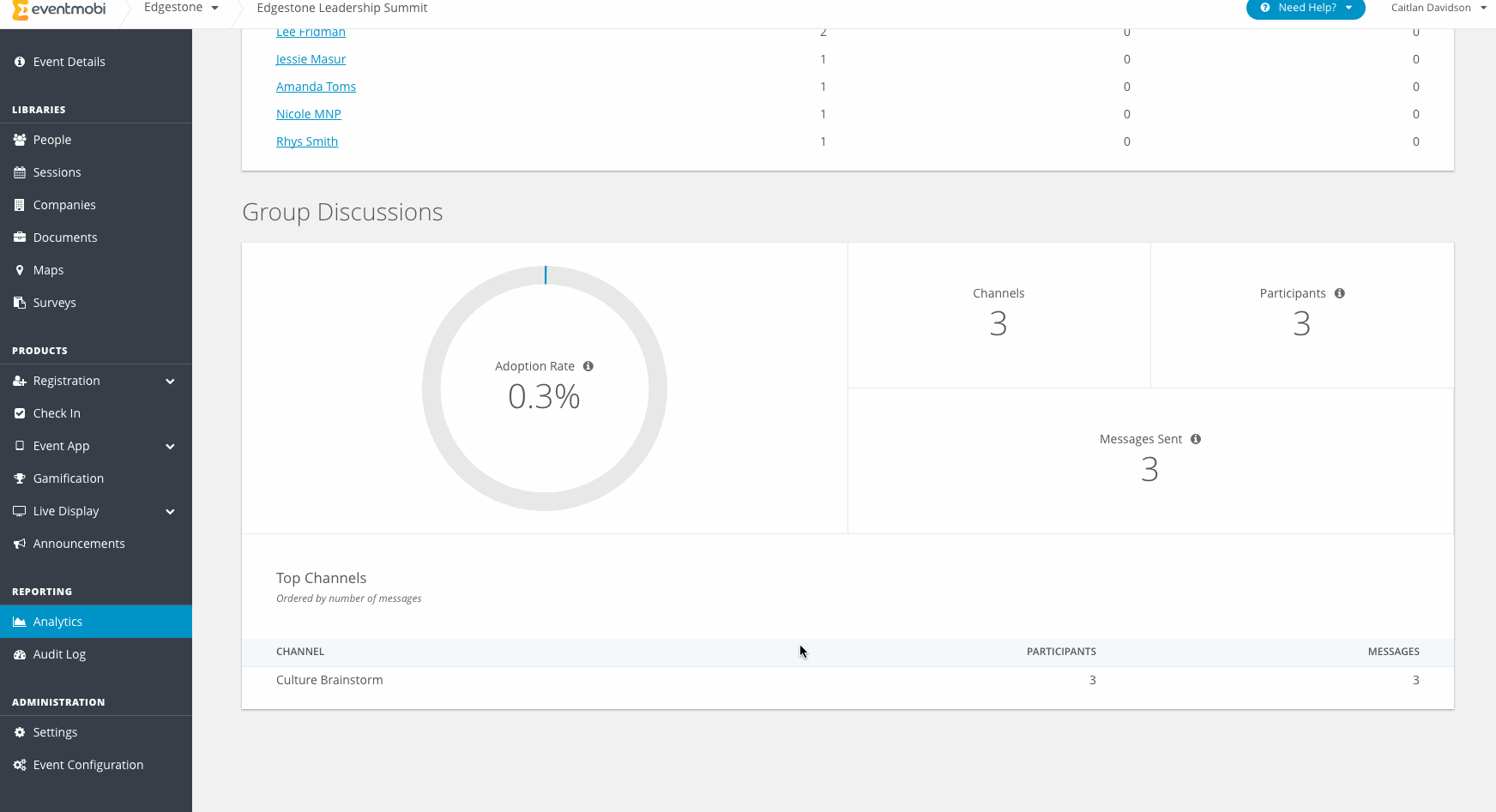 Registration
This area will only be accessible if you have purchased Registration as a product for your event. In this area you will see analytics on your ticket sales and revenue, in addition to the number of promo codes that were used (if applicable.
The Dashboard tab within your Registration product will provide you with a view of how your registration numbers have increased over time, whereas the Sales Analytics area within your Tickets tab will indicate the number of tickets sold, and have much revenue you have made.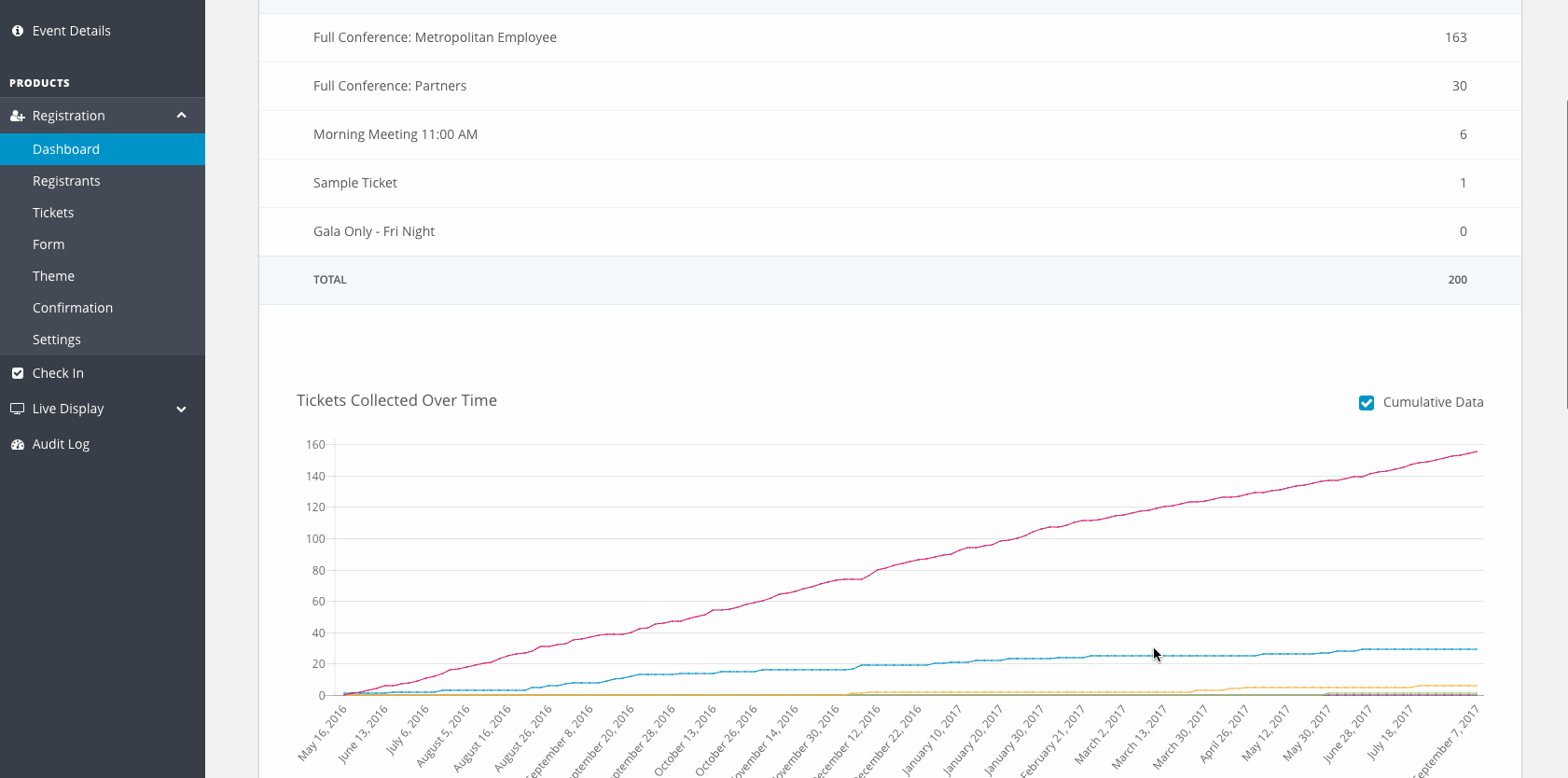 Google Analytics
If you need more detailed analytics, please contact support. If you would like access to the raw data Google generates, please provide a Google-compatible email address and indicate which event you are working on.